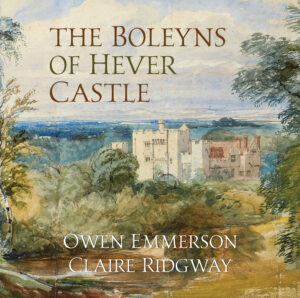 Owen and I have had so many comments and messages regarding our forthcoming book, The Boleyns of Hever Castle, and it's been so encouraging and truly heartwarming to know that there are so many people eager to read it.
I have good news for those wanting to order our book. Although it isn't released until 1st August, The Boleyns of Hever Castle is available to pre-order in paperback or on kindle.
This link – https://getbook.at/boleynhever – will take you to your country's Amazon store. If it's showing as unavailable, it will be because Amazon are still working on its product page, but it will be there soon, I promise.
For those of you who like to use Barnes & Noble, here's the link to pre-order the paperback – https://www.barnesandnoble.com/w/the-boleyns-of-hever-castle-owen-emmerson/…
The ASIN (kindle number) is B097TTYQF1 and the ISBN is 978-8412232561.
By the way, it's a coffee-table-style book and is full-colour with over 65 illustrations (portraits, room reconstructions, aretefacts…). It really is beautiful and we're so pleased with it.
Here's the blurb:
Hever Castle is a picture-postcard fortified manor house nestled in the Kent countryside. It is famous for its links with the Boleyns, an East Anglian gentry family who rose and fell dramatically at the court of King Henry VIII.
In The Boleyns of Hever Castle, historians Owen Emmerson and Claire Ridgway invite you into the home of this notorious family.
Travel back in time to those 77 years of Boleyn ownership. Tour each room just as it was when Anne Boleyn retreated from court to escape the advances of Henry VIII or when she fought off the dreaded 'sweat'. See the 16th century Hever Castle come to life with room reconstructions and read the story of the Boleyns, who, in just five generations, rose from petty crime to a castle, from Hever to the throne of England.
Owen Emmerson and Claire Ridgway have combined their considerable knowledge of the Boleyn family and Hever Castle to create this luxurious book. Packed with history and full-colour images, The Boleyns of Hever Castle will educate and enlighten you.
Owen and I are so excited about this book and launching it at the Hever Festival Theatre on 1st August. Tickets are available at https://heverfestival.co.uk/index.php/the-boleyns-of-hever-castle/ and please do come and say hello if you're going to be there.
Update: Wow! It's a No.1 hot new release on Amazon.com and a No. 1 bestseller in an architecture list on Amazon UK. Thank you, thank you, thank you!