The Anne Boleyn Files Advent Calendar 2018
Posted By Claire on November 30, 2018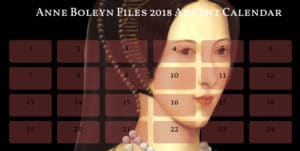 Can you believe that it's 1st December tomorrow? I can't. Time is just flying! The good news, though, is that means that the Anne Boleyn Files Advent Calendar starts tomorrow – yay!
I can't promise little chocolates or plastic toys, BUT I can promise some Tudor treats. Some wonderful historians, authors, bloggers and friends of mine have been so generous in sending me contributions, so we have all kinds of goodies, and they're all calorie-free. All you have to do, is visit the Anne Boleyn Files each day and click on the cover image at the top of the page or go directly to www.theanneboleynfiles.com/advent2018/. Note: You'll need to wait until tomorrow though!
I'd just like to take this opportunity to thank you for following the Anne Boleyn Files and I hope you have a magical festive season. A big thank you too to all those who have contributed to the calendar and also to good old Techie Tim for enabling it to happen!
By the way, I have another treat for you too – our sister site, the Tudor Society, is having an open weekend from 7th to 9th December. It's completely free and means that you can have 3 days of Tudor bliss. You can register at www.tudorsociety.com/open-weekend-2018/ and you'll also receive a free Tudor puzzle book as a thank you.