The Anne Boleyn Experience Day Three – Hampton Court Palace
Posted By Claire on September 27, 2012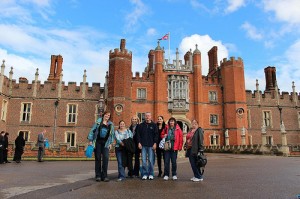 Here's Tim's diary entry from day three of The Anne Boleyn Experience 2012 tour…
Today we spent our day out at Hampton Court Palace, which is a wonderful place to visit.
We were met by Jane, our costumed guide, who took us around the Tudor parts of the palace, explaining the history of the construction, and some of the interesting things which happened there. As always, I was blown away by the beauty of the Great Hall, and enjoyed taking lots of photos of all the woodwork in the hope of finding yet more "HA" emblems.
After a lunch in the Tiltyard Café, we split into groups. Some went to the William III apartments and some came with me to see the gardens, Real (Royal) tennis court, and my beloved Hampton Court vine. Although it was a little damp, we mostly avoided the rain and the gardens were looking really beautiful.
After our return to Hever Castle, we had our evening banquet in the main castle dining room (tonight we had asparagus with egg for starter, pork with an apple sauce on a bed of mashed potatoes for main, and a delicious summer fruit pudding). The castle staff were kind enough to put on the lighting at the front of the castle so that we could also go out and take some stunning shots of the castle at night.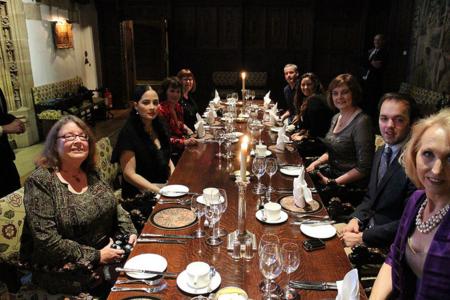 Dining in Hever Castle's great hall was also a very apt time time for us to raise a glass and toast Professor Eric Ives, who, of course, should have been speaking to us on this tour. I hope that he would have appreciated us doing this in the home of the woman he spent so much time researching.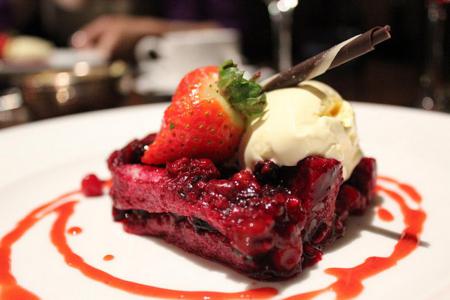 Another great day was had by all, and tomorrow we're off to the Tower of London.
Photos of the day can be found here: