Claire | September 8, 2023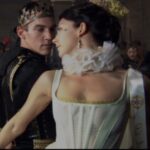 For this week's #FridayFun, I thought it would be interesting to see what people think about Anne Boleyn's relationship with Henry VIII?
Did Anne Boleyn set out to attract the king a la Elizabeth Woodville? Was her rebuffing of him all part of a plan to make him want her even more? Did she have her eyes on the crown and was playing a game to get what she wanted?
or
Did Anne really mean "no"? Was she rebuffing Henry VIII's advances because she truly didn't want to become a royal mistress? She meant no and expected him to move on to an easier conquest.
What do you think?