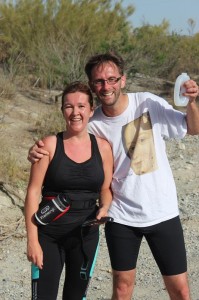 Tim and I have just got back after completing our sponsored 10km run (and walking 8km back!). It went really well and was a personal best, being faster than our practice run last weekend.
Our eldest son cycled alongside us at points to take some photos and our other two children, along with some friends of ours, waited at the finish line and held a ribbon for us to run through. We ran 10.1km in 58.35 and are proud of ourselves.
As I write this, we have raised £374 (£429 including Gift Aid) and would love to reach £500. We ran in aid of the Sunshine Rehabilitation Centre in Kenya, which is supported by the charity Rope. You can donate at
http://uk.virginmoneygiving.com/ClaireRidgway
It is estimated that between 250,000 and 300,000 children live and work on the streets in Kenya. In Naivasha, the hub of the country's flower and vegetable growing industries, the town centre has many street boy 'bases' particularly around the hotels and guest houses and near the markets. Street boys organise themselves into gangs which operate protection rackets in which older boys provide protection to younger ones in return for money or food. Lacking a stable home, regular food and education, they are isolated from the community by their behaviour and often get into trouble with the police, while facing risks such as violence, drugs and disease.
Rope supports the Sunshine Rehabilitation Centre, an on-going project that has already made a positive impact by reducing the number of street boys in Naivasha. The root causes of the 'street boy problem' are poverty and family breakdown. The aim of the Centre is to rehabilitate street children so they grow up to be educated and respected members of their society.
What we love about this charity is that 100% of all gifts given to Rope are used for the direct benefit of the poor. The 'Friends of Rope' fund meets the running costs of the organisation.
Here are some photos Christian took of us running, along with a screenshot of my Nike running app at the end of the run.
[slideshow id=6000 w=400 h=400]