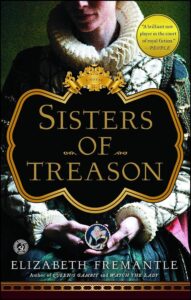 I found Elizabeth Fremantle's first book The Queen's Gambit a riveting read so I was looking forward to diving into Sisters of Treason. I enjoyed Fremantle's first novel but this one was even better and I found it hard to put down.
Sisters of Treason was inspired by Leanda de Lisle's non-fiction book The Sisters Who Would be Queen, which challenged the perception that many people have of Lady Jane Grey as an innocent victim and pawn of manipulative and, at times, abusive parents. De Lisle also went on to examine the lives of Jane's sisters, Katherine and Mary, and this book explores their lives in a fictional way, filling in the gaps and bringing these young women to life, fleshing them and their stories out for us. I loved the way that Frances Grey was depicted, as a mother devastated by her young daughter's execution and wanting to protect her other daughters from a similar fate. Gone is the Frances Grey of legend, the cruel mother who forced Jane to take the crown, the bloodthirsty hunter who could not understand her daughter's love of learning, and in her place is "maman", a woman who loves and grieves. The reader empathises with Frances and I loved her character.
The story is told in the first person through several characters – artist Levina Teerlinc, Katherine Grey and Mary Grey – and this works really well for this novel. We see events through their eyes and the first person allows us to explore their feelings and to connect with each character. Although there is no evidence that Levina Teerlinc was a confidante to Frances Grey, who makes Levina promise that she will look after her daughters when she's gone, the relationship is perfect for a novel. Frances is terrified that her daughters' claims to the throne will lead to trouble for them, and even their deaths, and she wants to protect them. She can't keep them away from court without upsetting the queen, so Levina acts as their guardian, perhaps guardian angel. My favourite character, though, was Mary. Little is known about Mary Grey, just that she had some kind of spinal deformity and that, like her sister Katherine, she got into trouble for marrying without the Queen's permission. In Sisters of Treason, we see Mary grow up. At the start, the grief-stricken Mary is forced to spend her time sitting on the lap of the woman who had her sister executed, Mary I. The Queen treats her like a doll or pet, a plaything, and you cannot help but feel for this girl. Jane's faith and sacrifice has a real impact on Mary and while Katherine's character can be quite frivolous and shallow, Mary's is deep and mature. I looked forward to her parts in the book.
This is only Elizabeth Fremantle's second book, but she is definitely an historical novelist to follow. I will not hesitate to buy her next book. Both of her books have grabbed me from the outset and her characterization drew me in and gave me a real connection to her characters. Superb.
Book Details
Sisters of Treason is a powerful and moving story of passion and peril in Tudor England, perfect for fans of Hilary Mantel.
Mary Tudor clings fearfully to the English throne.
Seeing the threat posed by her cousin, Lady Jane Grey, the Queen orders her execution. But what of Lady Jane's young sisters – Katherine and Mary? Cursed with royal blood, they must endure the perils of a Tudor court, closely observed by its paranoid Queen.
Entranced by the drama, intrigue and romance of court life, young Lady Katherine's desire for love leads her to make ill-advised and dangerous liaisons. Burdened with a crooked back, her younger sister, Lady Mary – the 'mouse' – is seen as no threat and becomes privy to the Queen's most intimate secrets. Yet Mary, who yearns to escape court dramas, knows her closeness to the Queen could be her undoing.
For the Queen is childless and in ill-health. If she should die, her fearsome sister Elizabeth will inherit the crown. Then Katherine and Mary will find court a maze of treachery and danger – where possessing royal blood is the gravest crime of all . .
Hardcover: 496 pages (UK), 448 pages (US)
Publisher: Michael Joseph in the UK (22 May 2014), Simon & Schuster in the US (July 8, 2014)
Language: English
ISBN-10: 0718177088 (UK), 1476703094 (US)
ISBN-13: 978-0718177089 (UK), 978-1476703091 (US)
ASIN US: B00GEEB93I (This is my affiliate link for Amazon.com and I may receive a small payment if you buy the book through this link).
Available from Amazon US, Amazon UK and your usual bookstore.
Originally posted on July 5, 2014.