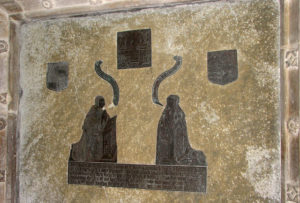 On this day in history, Sir John Spelman, Judge of Assize and law reporter died. He was buried at Narborough, Norfolk.
Spelman is known for his reports of cases from 1502 to 1540, which included the proceedings against Cardinal Wolsey, Bishop Fisher, Sir Thomas More and Anne Boleyn.
To mark the anniversary of Sir John Spelman's death, I want to share with you an article I wrote regarding his report on the case against Queen Anne Boleyn in 1536. Click here to read it now.
Picture: All Saints church – memorial to Sir John Spelman and wife, cc-by-sa/2.0 – © Evelyn Simak – geograph.org.uk/p/1638046.