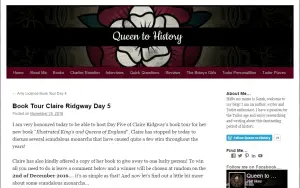 For the final stop of my book tour for the paperback version of Illustrated Kings and Queens of England, I'm visiting my friend Sarah Bryson's QueentoHistory blog to discuss some of the monarchs whose reigns were tinged by scandal.
Do join me and I'd love to hear which monarchs you think were scandalous so do please leave a comment. All those commenting on my article at Sarah's blog will be entered into a giveaway with a paperback copy of my book as a prize.
Illustrated Kings and Queens of England is an Amazon Kindle Countdown Deal from today until the end of 28th November along with some other wonderful history books. They're just $0.99 or 99p each! – click here to see the full list and links.