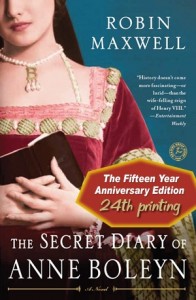 Robin Maxwell, author of "The Secret Diary of Anne Boleyn", is celebrating the 15th anniversary and 24th printing of her novel with a giveaway and new author's note. In her author's note (see below), Robin shares what Anne Boleyn and her daughter, Elizabeth, mean to her personally and how they have become such an important part of popular culture. Scroll down to the bottom for information on Robin's giveaway.
Over to Robin…
Looking back . . . I can honestly say that Anne Boleyn and Elizabeth Tudor changed my life profoundly and forever. Conversely – and putting modesty aside – I would suggest that I have been instrumental in changing readers' perceptions of the most influential mother-daughter team in history. In 1997, The Secret Diary of Anne Boleyn was published. I now, therefore, have the benefit of fifteen years of hindsight and experience with both the book's protagonists and a world that never seems to tire of them.
From the age of ten I was vaguely aware of the famous sixteenth century English dynasty. In 1960 my mother, father, sister, and I moved into a Tudor-style home in Plainfield, New Jersey. As our family's name was Ruter, we jokingly dubbed our new home the "Ruter Tudor". I had no idea then of becoming a writer, except that my mother, Skippy, thought I was so good at it that she kept every birthday card, poem, and school paper I'd ever penned in a manila envelope in her bedroom. Even with the hardest history teacher at Plainfield High, Mr. Gearhart – who insisted we learn how to do historical research from "primary source material" – I managed to squeak out an A in the subject. Who would have thought that my mother's belief in me and a high school history teacher would prove so valuable thirty years later?
I was a huge reader from a young age, but I didn't discover historical fiction until I had graduated college. Early on, I stumbled upon those outrageous Tudors in Norah Lofts's The King's Pleasure and The Concubine. A great fan of the movies (like my grandma Lena and my mother before me), I thrilled to Genevieve Bujold's portrayal of my heroine in Anne of the Thousand Days and the sexy Richard Burton as Henry. The BBC's The Six Wives of Henry VIII was riveting, of course, but the casting of Henry and Anne (Keith Michell and Dorothy Tutin) was less than scintillating. On the other hand, Glenda Jackson in the title role in Elizabeth R was a masterpiece on Masterpiece Theatre.
Ten years passed and I became a Hollywood screenwriter. As I was knocking out broad comedies about marvelously immoderate broads with my partner and best girlfriend, Billie Morton, I could never shake that weird, inexplicable passion for Anne. I therefore took the unusual step of buying my first and very own nonfiction history, the gorgeously illustrated Anne Boleyn by the one who'd brought me to the dance, Norah Lofts. Then, without telling anyone, I wrote a two-act play called I Am Anne Boleyn, but it was a woeful rehashing of the story, without an ounce of originality. Once it was finished I shoved it in a drawer and never looked at it again. I was, however, unable to keep my obsession in check and talked so incessantly about Tudor England that I drove everyone around me mad. Finally my mother; Billie; and my husband, Max, begged me to write a book on the subject, hoping to shut me up about it once and for all.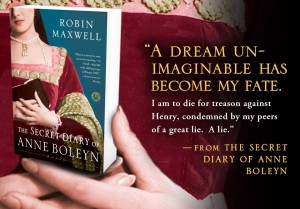 I'd never written a novel and had no earthly idea what I was doing. But I had come up with what I thought might be an interesting hook – a way to tell the Anne Boleyn story that had never been done before. As far as I could tell, Anne and Elizabeth's mother-daughter connection had never been elaborated on anywhere. I decided I'd be the first to do that.
So I began to do research. Taking myself to the closest public libraries – in Santa Monica and Malibu – I scrounged for every history of the period and every biography they had on Anne and Elizabeth. It wasn't exactly primary source material, but I read everything really closely, cross-checking facts, looking for direct quotes from the main players and their contemporaries, and relying heavily on passages that came from documents like the English State Papers. These were the days before online bookstores made buying the most obscure reference books easy and affordable. Since I couldn't mark up library books, I made do with taking thousands of notes on three-by-five-inch cards and renewing the same titles continuously for a year and a half.
Once I was well and truly into my research I was shocked (and perversely delighted) to discover how little space was devoted to Anne's influence on Elizabeth's life. It was as though – since her mother died when Elizabeth was not yet three – the maternal connection was inconsequential. If anything was said about the pair of them, it comprised no more than a paragraph and almost invariably parroted the same idea: It was the trauma of Henry VIII having his second wife beheaded that caused Elizabeth's complete rejection of sexuality – the reason she never married and the first circumstance that led to Elizabeth's famous (and supposedly fitting) moniker the Virgin Queen.
My own experiences disputed that argument. I had learned that it mattered very little how long your parents were with you in life – whether you grew up in their home, if you'd been estranged from them since early childhood or in the present, or even if they were long deceased. Whether you adored or despised them was irrelevant. Their influence on your life was irrevocably profound and utterly pervasive.
Yet here were these magnificent women bound by that most significant of relationships, and the historical record was nearly blank. Almost all the portraits of Anne painted in her lifetime had been destroyed or (we can only hope) hidden after her death. From her infamous execution on, people only spoke her name in whispers. If they were smart, they did not speak of her at all. If they were related by blood, they made themselves scarce at court. Few of them survived Henry's reign. Anne Boleyn was anathema personified.
Yet it was a great revelation to me when I learned that Elizabeth believed the negative spin about her mother so thoroughly that by the time she took the throne at age twenty-five, she'd not uttered Anne's name aloud for twenty years. But who could blame her? At the moment the French headman's sword sliced off Anne's head, the little Princess Elizabeth became merely the little Lady Elizabeth . . . and a bastard at that. Henry sent her and her household into obscurity and refused to pay the servants' wages. She outgrew her caps and shoes, and her dresses became threadbare. And all this because of her mother's "whoredom." Elizabeth was taunted from without and haunted within by the conventional wisdom that her mother's wanton blood flowed through her own veins.
But then, as I was digging through the research books, I struck gold. I learned that within several years of her accession to the throne, Elizabeth made an astonishing about-face regarding the woman who'd birthed her. The young queen began awarding grants and titles to the few Boleyn relatives who had survived Henry's bloody reign. She was heard to speak kindly of Anne and began wearing a miniature of her mother – some say in a locket, others a ring.
To me, this indicated that something significant had quite suddenly changed Elizabeth's perception of her mother. It was then that the queen began (to her counselors' horror) reasserting her stunning vow (first said to have be uttered when she was eight) never to marry – a promise to which she held steadfast for the rest of her life. I also discovered that the rumors of Anne being a distant, unfeeling mother to Elizabeth were unsupported by fact. Queen Anne kept her infant daughter with her whenever she could, laying her on a silk pillow near her feet when she sat with her ladies. And when Henry demanded that their still-tiny child be sent away to her own household – at a time when Anne was in great disfavor with the king – she had argued with him on the issue so fiercely that he'd bellowed those words recorded by contemporary sources, "These are the prerogatives of kings!!" Twice.
Here was a great mystery: a deeply personal retelling of this slice of history, the consequences of which sent tremors through sixteenth-century politics and down through the centuries, changing the course of Western civilization. I was more convinced than ever that I had to write about it. I needed to solve this mystery of history.
But now poring over my Anne and Elizabeth biographies by Carolly Erickson, Elizabeth Jenkins, Paul Johnson, William Drogo Montague, and Marie Louise Bruce, I was stumped. I thought, Somehow, Elizabeth had learned some important truths about her mother. Perhaps that she had loved Elizabeth. Perhaps the unpleasant but inescapable fact that even the greatest professed love — and even sexual obsession — could turn to murderous hatred. The lesson was clear: a woman should never give her power away to a man. Anne had held on to hers for as long as she refused to bed Henry – six years. Within months of the secret wedding, even though the queen was pregnant with what everyone believed was a Tudor prince, Henry took a mistress.
How had Elizabeth come to this truth about the balance of power between men and women—that which caused her to eschew, if not sexual relationships, marriage? I mused, What is the one circumstance in which an individual always tells the truth? Leaves out exaggeration and recalls the story the way it really happened? That is how I conceived of Anne's diary. It would be a very strange person, I thought, who would falsify the truth in an intimate journal. In the early sixteenth century, diary keeping was still rare, and Anne was a young, if not innocent, girl, in love with a sweethearted boy her own age. No reason to prevaricate. In this fictional diary, she would just record her emotions and the circumstance surrounding her return from France to Henry's court. The missing piece was how I would get the diary into Elizabeth's hands.
Then it came to me: Anne would place it in the keeping of a lady-in-waiting—one sympathetic to the doomed queen who'd been with her in the Tower before her execution. She'd give the woman instructions to give it to Elizabeth when she became queen of England – an eventuality that, at the moment, was a near impossibility. It was a future that only a loving mother, one who believed fervently in the greatness of her daughter's destiny, could imagine.
Once I had put these few pieces together, I lay down in a hammock on a spring day with pen and yellow pad. I wrote the chapter in which Lady Sommerville (now an old woman) delivers the secret diary to Elizabeth. This was one of the most vulnerable moments of her life. She was being harried by her counselors to make a dynastic marriage at the same time she was deeply embroiled in a love affair with Robin Dudley.
I'd never written a word of historical fiction, but something was moving through me. I could hear voices and conversations loud and clear in my head. I wrote and wrote. I took one bathroom break and stuffed some food in my face, but aside from that I didn't rise from the hammock for seven hours. When I did, I had the complete chapter written. The Secret Diary of Anne Boleyn had been born. Of course I had to go back to my research, shuffle and reshuffle my three-by-five-inch cards for the next year and a half, before I completed a first draft of the manuscript, but that single chapter became the spine of the book. And the ease and joy of its creation gave me confidence that I could, indeed, write an entire novel.
The manuscript was finally finished. I was more than fortunate that I landed an agent on my second try (the first told me the book was unpublishable and, further, there was no market for historical fiction). Kim Witherspoon (and her mother) loved the book, and she took it on. We survived thirty-six rejections before Jeannette Seaver of Arcade Publishing said an enthusiastic yes. Suddenly offers for translation rights started pouring in, and when The Secret Diary of Anne Boleyn finally hit the bookstores, I embarked on a massive national promotion and publicity campaign. When you are a debut author you get opportunties not otherwise offered. I was determined to take each and every one. These were the golden years of author book tours. Although I was scared out of my wits to be speaking in public, I did thirty events in the Los Angeles area alone, twelve in Chicago, and fifteen in Florida. In Vero Beach, Florida, Diary made it to #1 on the town's bestseller list (a newspaper that reported to the New York Times list). Finally I hit the Northeast, from New York to Boston. The most frequent question I was asked at my events— hands down—was whether I believed I was the reincarnation of Anne Boleyn. Readers felt that I had perfectly captured her voice and her spirit in those diary entries.
Meanwhile, Max had been haunting the local bookstore chains to stare in wonder at his wife's published novel and saw that copies of my book, while displayed on the new hardback fiction shelves at the front of the stores, were not at eye level. Surreptitiously he remedied that, placing copies where he thought they deserved to be. In Florida, my mother took up the cause, marching into every bookstore where Secret Diary was in stock and loudly haranguing the booksellers till they put the book – dedicated to her, she always added – in a place of honor. To my quiet delight, other family members and close friends around the country took up this questionable behavior, and thus what we called bookstore terrorism came into being.
The next year, Touchstone/Simon & Schuster published the trade paperback. My editor, Trish Todd, blew me away by sending me on a first-class West Coast book tour, complete with fine hotels and literary escorts.
My head was still spinning with these mind-bending events when a giant bidding war broke out in Hollywood among five major production companies for a TV miniseries of my book. NBC and Hallmark won, and in addition to the book rights being sold, the network optioned the four-hour miniseries teleplay adaptation that I had – with expectations as great as Anne had had for Elizabeth's future – already written.
That same year, Whoopi Goldberg, hosting the Academy Awards, made her startling entrance in full Elizabethan regalia. This was in honor of Michael Hirst's feature film Elizabeth, starring Cate Blanchett, as well as Shakespeare in Love, both of which received multiple nominations and Oscars. The English Renaissance was starting to resonate in the public's consciousness.
Secret Diary was selling well all over the world. Arcade and Touchstone bought two sequels with Elizabeth as their protagonist, and William Morrow/HarperCollins a third. Thus my Elizabethan Quartet was complete. The research necessary for them produced further amazing revelations about Anne and Elizabeth, who the New York Times Magazine's December 1999 "Best of the Millennium" issue called "the Greatest Ruler of the Millennium."
While delving into Elizabeth's tawdry teenage affair with her stepfather, Thomas Seymour, for Virgin: Prelude to the Throne, I discovered in Anthony Martienssen's Queen Katherine Parr, that in the summer of 1529, Henry VIII had "put Anne in charge of a small team at her father's house at Durham Place in London with the task of breaking the power of the Pope in England and completing the divorce proceedings." The team, aside from her family members, were Thomas Cranmer, Thomas Cromwell, and Stephen Gardiner, who, "under Anne's guidance (directed by the King in the background) created the hard core of doctrine and policy which was to become the English version of the Reformation." This information at once confirmed my high opinion of Anne and her part in the Protestant Reformation and saddened me, as the material would have certainly been included as a vital part of Anne's diary had I known of it then.
In researching The Wild Irish, I found out just how coldhearted, even murderous, Elizabeth became in her later years – devastating Ireland and its people in her attempts to outdo her rival Grace O'Malley and quell the mother of all the rebellions in Ireland.
Fox Television and the A&E Network picked up NBC's dropped option for the Secret Diary miniseries, and Sarah Michelle Gellar – who had fallen in love with my book – signed on to play Anne— "Buffy Boleyn," I called her. So far, it's yet to be produced, but like my heroines, I never say die.
Then Philippa Gregory's The Other Boleyn Girl hit the shelves, and the publishing world was changed forever. That novel's success rocketed the still-modest historical fiction genre into the stratosphere. Two years later, Helen Mirren did the older Good Queen Bess proud in HBO's miniseries Elizabeth I and won an Emmy for it. And in 2007 a brilliant young Australian producer Monica O'Brien optioned the book rights and my screen adaptation of The Wild Irish.
I was in pig heaven.
Nothing, however, prepared us for Michael Hirst's series The Tudors. My own prequel to Secret Diary – the story of the Boleyn sisters' teenage years at the lascivious French court Mademoiselle Boleyn, was fortuitously published just at the start of the series' second season. My book was a success, but the Tudors – a family dead for five hundred years – all at once became a sensation, a household name, and an industry unto itself. Millions logged on to the Showtime Tudors website to buy T-shirts, watch exclusive videos, download wallpaper, mobile apps, and games.
Along with millions of other viewers, I was nuts about Natalie Dormer's Anne, Jonathan Rhys Meyers's Henry, and Sam Neill's Cardinal Wolsey. Despite the literary and historical license frequently taken, I was completely addicted to the show. A few months back I had been contacted for an interview on Anne Boleyn by Susan Bordo, the author of The Creation of Anne Boleyn, a nonfiction book following Anne's life via the images, myths, and biases that began to be produced during her life and continued beyond her death through the centuries since then. Clearly, we had a lot to discuss. Most interestingly, I learned from Susan that Natalie Dormer, whom she interviewed extensively for her book, is also an Anne Boleyn fanatic, and that she had worked feverishly to ensure that the producers and network allowed her such a worthy portrayal of her character—one of depth, intelligence, wit, and fire. Natalie held them as closely to reality as was possible, giving credit where credit was due, especially with regard to Anne's part in bringing about the Protestant Reformation.
This year, nearly five hundred years since Anne stood on Dover Beach to board the ship that would start her on the adventure that was her life, comes the twenty-fourth trade paperback printing of The Secret Diary of Anne Boleyn. Now with a wonderful new editor, Heather Lazare, an updated cover, and additional inside material, agents David Forrer, Lyndsey Blessing, and Alexis Hurley working as hard for the book as Kim Witherspoon did way back, more translations (it's in Japanese!), an e-book with Skyhorse Publishing in the United States (Orion in the UK), and—for the first time ever – a Brilliance Audio edition available, I feel as though my girls and I have come full circle. Anne, Elizabeth, Henry, Robin Dudley, Robert Devereux, and all the other members of their wildly dysfunctional families have become my family.
I accept with great humility that I have built an entire career on the scandals, fortunes, misfortunes, glorious lives, and tragic deaths of the lot of them. I'm filled with gratitude that the royalties from my books and screen adaptations have afforded Max and me our magnificent high desert eden. There's hardly a time when we drive between the stone pillars onto our property that we don't think or say out loud, "Thank you, Anne. Thank you, Henry. Thank you, Elizabeth." Without their permission I have invaded their most intimate lives, put words in their mouths, and shared the whole glorious affair with my readers. I can only hope they would have approved.
Robin Maxwell, September 2012
(From the new edition of "The Secret Diary of Anne Boleyn", published with Robin's permission)
Secret Diary of Anne Boleyn Giveaway
To commemorate the 24th printing of The Secret Diary of Anne Boleyn, author Robin Maxwell is celebrating with a sweepstakes giveaway of the book, a beautiful leather-bound diary and a series of 10 different "quote cards." The new book cover is a beautiful colorized still from the 1933 movie, "The Private Life of Henry VIII" And the Anne Boleyn is Merle Oberon!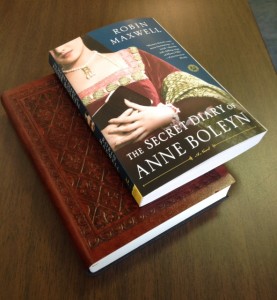 You can enter the sweepstakes giveaway by entering your details at https://www.facebook.com/AuthorRobinMaxwell/app_190322544333196