I'm gutted that I haven't been able to get to Gippeswyk Hall in Ipswich to get to see "Fallen in Love: The Secret Heart of Anne Boleyn", a play by the Red Rose Chain Film and Theatre Company, but the next best thing was to read this review written by Anne Boleyn Files visitor, Deborah Martin – thanks, Deborah!
Review: Fallen in Love
Red Rose Chain, Gippeswyk Hall, Ipswich, Suffolk
Performance: 24th May, 2011
Further details at http://www.redrosechain.com/page/fallen-in-love-the-secret-heart-of-anne-boleyn
Gippeswyk Hall is a lovely old red brick building in Ipswich, and a tent in the garden on a summers evening is a lovely place to be. Right from the start, staff were welcoming and friendly, especially in the really cramped car park. It was just a very pleasant place to be. The theatre tent itself was very pretty and an innovative place to stage the play. Initially, I did wonder how well it would work, but given the nature of the play, it was perfect. It created an intimate space, where everyone was very close to the action.
Fallen in Love has only two characters, Anne and George Boleyn, and shows some of their private moments from their teenage years to their deaths. I loved the characters! Anne, played beautifully by Fleur Keith was how she is in my head – intelligent, ambitious, a fiercely protective mother. I was especially impressed by Joseph Pitcher playing George Boleyn. He can so often be portrayed as a two dimensional character, in the shadow of his more famous sister, but he was a perfect match for Anne. It gave a real idea of the closeness between the pair, their intelligence and shared ambition. Both performers were amazing, they were powerful, intense, and so talented, they held the attention of the audience, I don't remember anyone coughing or wriggling or the crinkling of sweetie wrappers! Their performance and the writing were superb. On more than one occasion the mood changed from light hearted jokes to deadly serious in seconds. I particularly loved the scenes around the downfall of the Boleyns, the pace of the action and dialogue sped up, I could almost feel the frantic horror and panic. Writer and director Joanna Carrick is to be congratulated, she has produced an amazing play.
This story does suffer from what Hollywood might term a 'negative ending problem'. We all know how it ends, but how do you do that? You can't actually execute your actors every night! I love how Fallen in Love presents the executions, it is beautifully done, is emotional and very moving.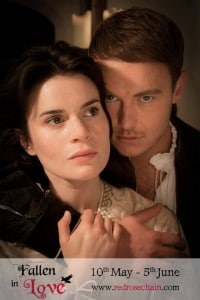 Accuracy…now I have a thing for historical accuracy, just ask my husband, I really hate being jarred out of the story by something that I know is wrong! This didn't happen to me once. I was very impressed! Even throw away lines that weren't integral to the plot line were accurate details. The really good bit is that they managed to do this without ruining the play for those who don't have an in-depth knowledge. Which proves the point I always make – why bother making things up when the truth is so fascinating to begin with!
This has become a bit of a glowing review so in the interests of balance, I must confess I have one slight criticism. The chairs. They are a bit hard. Although, I was so engrossed in the play I didn't realise my bottom was a bit numb until I was walking back to the car afterwards.
Overall verdict: 10/10. If you can get to Ipswich, GO! It was certainly worth the drive from Yorkshire.