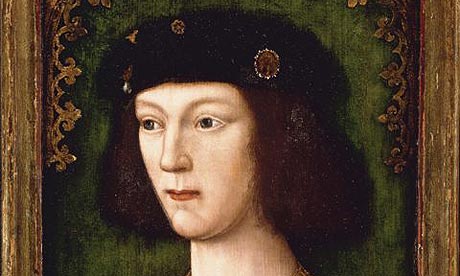 "The Sisters Who Would Be Queen: The Tragedy of Katherine, Mary and Lady Jane Grey" is a non-fiction account of the stories of these three sisters, the times they lived in and the monarchs who reigned in their lifetimes. I was desperate to read this after reading Jeane Westin's historical novel, "The Virgin's Daughters", and enjoying the fictional account of Katherine Grey's life, and I also wanted to know what Lady Jane Grey was really like.
This book did not disappoint and I can see why it took Leanda de Lisle four years to write. My copy is nearly 400 pages and it is 400 pages of relevant information and compelling theories all backed up with historical evidence. What I like about de Lisle's work is that she has meticulously researched these Tudor characters and her sources are well cited so you can understand why she comes to the conclusions that she does. It will be interesting to compare de Lisle's thoughts on Lady Jane Grey with Eric Ives's thoughts, when I have read his latest book on Lady Jane. I know that he and Leanda have had many discussions about Lady Jane.
I would recommend this book to anyone who want to know more about the Grey sisters and the reigns of Edward VI, Lady Jane Grey, Mary I and Elizabeth I. It is a huge book but it is well worth spending the time reading it, you will not regret it.
Contents
These contents are based on an early copy of the book, additions have been made to the latest edition. I have just received a US copy and have added details on the extra chapters in that version:-
List of Illustrations
Family Trees – The Descendants of Henry VII, the Grey Family Tree, the Dudley Family Tree and the Seymour Family Tree. These trees are extremely helpful when you're looking at different people's claims to the throne and how they are related to each other.
Prologue – This section is brilliant because it explains "the Chain of Being", the way that Tudors believed that God had ordered his creation and why women were believed to be the weaker sex. This really helps the reader understand why Henry VIII was so obsessed with having a male heir, even though he had two daughters. This prologue sets the scene for the book which tells the true story of the Grey sisters, a story which de Lisle states has been buried in "Dynastic politics, religious propaganda and sexual prejudice".
Part 1 – Educating Jane
Chapter 1: Beginning – As suggested by the chapter title, this chapter tells of Lady Jane Grey's birth to her parents, the 19 year old Frances, Marchioness of Dorset, niece of Henry VIII and granddaughter of Henry VII, and Henry "Harry" Grey, the Marquess of Dorset. Leanda de Lisle challenges the myth that Jane was born during Jane Seymour's confinement in September/October 1537 and puts her date of birth around May 1537.
Chapter 2: First Lessons – Details on the upbringing of Jane, Katherine and Mary Grey, the family's religious beliefs and their link to Anne Askew who was tortured and burned for her religious views.
Chapter 3: Jane's Warship – This chapter starts with the death of Henry VIII and gives information on the King's will, and what it meant for Lady Jane Grey and her sisters, Somerset's role as Protector, Sudeley and his hopes of marrying Jane off to Edward VI, and Jane leaving her family to become Sudeley's ward.
Chapter 4: The Example of Catherine Parr – A chapter covering Jane's time as Sudeley's ward, her intelligence and education, the relationship between Sudeley and the teenage Princess Elizabeth and Catherine Parr's death.
Chapter 5: The Execution of Sudeley – Jane's grief at Catherine Parr's death, her defiant spirit and her father's involvement in Sudeley's plans and his eventual fall. There is an interesting section in this chapter about executions and de Lisle states that "public executions were carefully choreographed and the rituals of a beheading followed a strict code" and that even if the prisoner was innocent "they did not doubt that they deserved to die" because God was punishing them for something.
Chapter 6: Northumberland's "Crew" – This chapter covers the rebellions and riots sparked off by the new Prayer Book and the religious changes of Somerset's protectorship, John Dudley's (Earl of Warwick) rebellion and the involvement of Sir Henry Willoughby (Dorset's brother), the arrest of Somerset and Warwick's plans to marry Jane to his son, the Earl of Hertford. The chapter also includes a section on the Princess Mary and what she was like – an interesting mix of a "delicate frame" with a man's strong voice!
Chapter 7: Bridling Jane – The teenage Lady Jane Grey, her education, her impressive language abilities and her "dynamic mind". In this chapter, de Lisle also challenges the widely held belief that Frances Grey (nee Brandon) was "an archetype of female wickedness: powerful, domineering and cruel" and that Jane was bullied by her parents.
Chapter 8: Jane and Mary – This chapter covers Jane's visit to Princess Mary's home at Beaulieu and her shock and disgust at Mary's religious beliefs, the religious differences and problems between Edward VI and Princess Mary, Mary's treatment at the hands of Edward, Jane's views of Elizabeth and Mary, and Somerset's execution.
Part 2 – Queen and Martyr
Chapter 9: A Dying King (called "Nor Poor Child" in the US version)- A chapter detailing the hope that Jane would be Queen Consort to Edward VI, Northumberland's hopes of marrying his son Guildford to Margaret Clifford, Edward's health problems, his will "My Device for the Succession" and Northumberland's change of idea, his plans to marry Guildford off to Lady Jane Grey, the Earl of Pembroke's son to Katherine Grey and Lord Grey of Wilton to be betrothed to 8 year old Mary Grey.
Chapter 10: A Married Woman – The triple wedding of Lady Jane Grey and Guildford Dudley, Henry, Lord Herbert, to Katherine Grey and Lord Hastings and Lady Catherine Dudley, as Edward VI lay dying, the conclusion of Edward's will which highlighted the illegitimacy of his half-sisters and praised the Grey sisters, Edward's death and Jane's reaction to being named heir.
Chapter 11: Jane the Queen – We are used to thinking of Lady Jane Grey as a child Queen who was manipulated by her elders, but was she really an innocent girl who didn't want the crown? This chapter looks at Jane as Queen and how she dealt with the threat that Mary posed. Leanda de Lisle writes "The Victorians produced innumerable prints depicting Jane modestly shrinking from the crown as he [Winchester] offers it to her. But as Jane was signing herself "Jane the Quene" on a daily basis, she wasn't shrinking from the crown in any meaningful sense". Even as news came in that ships were mutinying, Jane was sending out letters to sheriffs and Justices of the Peace demanding their support and allegiance – she was far from the shrinking violet, she was a Queen who was standing her ground.
This chapter ends with Mary being proclaimed Queen after Jane had reigned for just over a fortnight.
Chapter 12: A Prisoner in the Tower – A chapter covering Jane and Guildford's imprisonment and treatment in the Tower, Frances's pleas to Mary, the pardoning of Jane's father, the dissolving of Katherine and Mary Grey's marriages, Northumberland's execution, Jane's refusal to save herself by turning to Catholicism and her announcement that she would die for her beliefs, and Jane's trial, where she was sentenced to death.
Chapter 13: A Fatal Revolt – De Lisle looks at Mary's intention to pardon Jane and her lack of understanding of Jane's commitment to her beliefs and the revolt that used Jane and Guildford as figureheads and sealed their fates. In this chapter we have the details of Jane's final letters to her father and sisters, Guildford's execution and Jane's execution. Jane was not the frail little girl of myth and legend, she was a strong woman who died for her beliefs.
Part 3 – Heirs to Elizabeth
Chapter 14: Aftermath – The aftermath of Jane's execution including the hangings of traitors, the execution of Jane's father, Frances encouraging her remaining daughters "to play the Catholic", the execution of Thomas Wyatt, the Greys going to court, Mary's marriage to Philip of Spain and Frances's marriage to Adrian Stokes, her Master of the Horse.
Chapter 15: Growing Up – This chapter follows Katherine Grey's time at the court of Mary I and includes Mary's false pregnancy, the contrast between the old and ill Mary and the young vibrant Elizabeth, Katherine's friendship with Lady Jane Seymour, the attraction between "Ned" Seymour, Earl Hertford, and Katherine, and Mary I's death and Elizabeth I's accession.
Chapter 16: The Spanish Plot – A chapter covering Elizabeth's accession to the throne, her coronation, Katherine's involvement in proceedings, the focus on Katherine as possible heir to the throne if Elizabeth did not marry and produce and heir, the Spanish plot to smuggle Katherine out of England, the love affairs between Elizabeth and Dudley and Katherine and Hertford, andHertford's plans to ask Frances for permission to marry Katherine.
Chapter 17: Betrothal – In this chapter we learn of Frances's death, Katherine's promotion to the Queen's Privy Chamber, the scandal of Amy Robsart's death and the formal betrothal of Katherine and Hertford.
Chapter 18: A Knot of Secret Might – The secret wedding of Katherine and Hertford, the consummation of the marriage, Lady Jane Seymour's death, Katherine's pregnancy and her plan to get Pembroke, her former husband, to marry her because there was no proof that she was married to Hertford. The chapter ends with a furious Elizabeth throwing Katherine into the Tower.
Chapter 19: First Son – Hertford's return home, Elizabeth's belief in Mary Queen of Scots' claim to the throne, the birth of Katherine's son (Edward Seymour), a male heir to the English throne, Yuletide at the Elizabethan court, the support for Katherine's claim to the throne, the investigation into Katherine's marriage and the meeting between Katherine and Hertford in the Tower which results in a second pregnancy.
Chapter 20: Parliament and Katherine's Claim – This chapter starts with Elizabeth I fighting off smallpox, Parliament's demand for an heir to be named, the birth of Katherine's second son, Thomas, and Elizabeth's fury.
Chapter 21: Hale's Tempest – The plague in London, Katherine's removal to Essex (to escape the plague) and Katherine's failed petition to the Queen.
Part 4 – Lost Love
Chapter 22: The Lady Mary and Mr Keyes – In this part of the book, we turn to look at the life of the youngest Grey sister, Mary Grey, a small girl who was described as "crook backed and very ugly". This chapter covers Mary's love for an older man, Mr Keyes, Katherine Grey's continued house arrest, the wedding between Henry Knollys and Margaret Cave, the marriage of Mary Queen of Scots and Lord Darnley, Mary Grey's secret marriage to Mr Keys and Mary's imprisonment in the Tower.
Chapter 23: The Clear Choice – This chapter covers Katherine;s continued house arrest, the birth of Mary Queen of Scots's son James, Keyes' awful imprisonment and Mary Grey's worries about his health, Parliament's concerns over the succession, Darnley's murder, Mary's release from her prison into the care of her step-grandmother, Katherine Suffolk, and Katherine Grey's depression as she realises she may never be reunited with her husband and children.
Chapter 24: While I Lived, Yours – Katherine's illness and death and her wish that her husband should have her wedding ring and a ring engraved with "While I Lived, Yours".
Chapter 25: The Last Sister – Mary Grey's life with Katherine Suffolk, Mary Queen of Scots's house arrest with the Earl of Shrewsbury and Bess of Hardwick, Norfolk's plans to marry the Scottish Queen, Keys' petition to the Queen to let him be with Mary, the death of Keys and the final release of Mary in 1572.
Chapter 26: A Return to Elizabeth's Court – Mary's new life as a free woman, first at Beaumanor with her stepfather, and then in her own house in London, Mary's return to royal favour, helped by Blanche Parry, and her appointment as Maid of Honour to Elizabeth in 1577, and Mary's death.
Chapter 27: Katherine's Sons and the Death of Elizabeth – Lord Beauchamp's (Katherine Grey's eldest son) love for the lowly Miss Honora Rogers and the trouble it caused, the execution of Mary Queen of Scots, Thomas Seymour's (Katherine's second son) appeals to validate his parents' marriage, Arbella Stuart's claim to the throne and Elizabeth's death and following proclamation of James VI of Scotland as James I of England.
Chapter 28: The Story's End – In this chapter we learn of Hertford's successful search in 1608 for the clergyman who had married him to Katherine Grey 48 years earlier, the scandal of the marriage of Arbella Stuart to William, Beauchamp's younger son, Arbella's death in the Tower, William's rehabilitation in the court of Charles I, Charles I's execution and William's mission to give the King a proper burial, William's death as Duke of Somerset and the legacy he left.
Epilogue
Here de Lisle talks about how Katherine and Mary Grey have been forgotten, yet Lady Jane Grey is still remembered as "an ideal of girlhood and the embodiment of innocence offended" and de Lisle is spot on when she talks of Paul Delaroche's painting, "The Execution of Lady Jane Grey", being evocative of a "virgin sacrifice". However, as de Lisle quite rightly states, lady Jane Grey was much more than this and "Jane died as a leader and not merely a victim". All three sisters had a tragic life but let's not remember them as pathetic victims, but rather women who stood up for what they believed.
Author's Note
Here, de Lisle, explains how she came to write the book and what drew her to the story of the Grey sisters.
"The Sisters Who Would Be Queen" also includes Notes, a comprehensive bibliography of unpublished sources and published sources, and an index.
Final Words
This is a comprehensive book on the lives of the Grey sisters and is not a work of "popular" history, but rather a textbook. I don't mean that it is boring, far from it, but it is not light reading – great for those of us who get love getting lost in historical documents! I love the way that de Lisle challenges the stereotypes and our preconceptions of Lady Jane Grey and her family, and completely captivates the reader. Brilliantly written!
Praise for "The Sisters Who Would Be Queen"
John Guy, author, historian and Professor History at Cambridge says:
"A gripping read…Besides exploding the myths, Leanda de Lisle breaks new ground by linking Jane's story to those of her siblings, Katherine and Mary. Her book is an unrivalled account of the struggle for the Tudor succession."
The Daily Telegraph London says:
"Leanda de Lisle gives us the brief life and grim times of Lady Jane Grey and her family in merciless clarity and dazzling detail. This is a marvellously told and quite terrifying biography."
Availability
This books is available to buy in the UK/Europe and the USA – simply click on the book covers to be taken to the relevant Amazon UK or Amazon US pages.