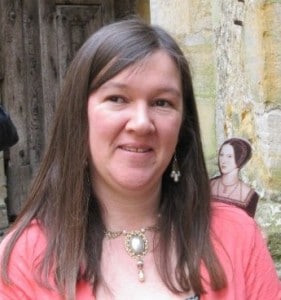 I've now crashed back down to earth with a resounding thud after an idyllic week at Hever Castle last week. It is so hard to put my thoughts and feelings into words but last week really was a dream come true.
As a Brit, I've been to London before and I grew up near castles and Tudor attractions BUT there is nothing like spending a few days with other Tudor history fans and sleeping at Hever Castle. To be able to go for a walk around the grounds before breakfast, gaze at the castle without it being surrounded by tons of tourists and chat into the night about Anne Boleyn and Tudor history, without people's eyes glazing over, was an incredible experience. I know it sounds silly but I really did feel Anne's presence – not a ghostly presence, but more of a feeling of Anne smiling down at us and being pleased that we were following her words "And if any person will meddle of my cause, I require them to judge the best". Spending those few days focused on Anne and walking in her footsteps just blew my mind.
Here are my highlights of the week:-
Touching Anne Boleyn's memorial tile at the Tower of London with my own hand and placing flowers from all of us at The Anne Boleyn Files there as a testimony to how much she means to us.
Meeting 19 wonderful people – I love you all!
Having Hever Castle as my backyard
Being in the castle by ourselves at night, eating in Anne's dining room and being surrounded by things which would have been familiar to her.
If you came on the tour then please add your highlights as comments below. If you didn't make it then please browse the photos on our Flickr page at http://www.flickr.com/photos/theanneboleynfiles/
Next year, I am hoping to do two tours – one in May 2011, which I will be launching soon, and one in July 2011. I need two fixes of Hever next year!!
P.S. I've just listed the jewelry that I launched at Hever Castle – you can see a set for each of the six wives plus a Princess Mary Set and the Pembroke Set at https://www.theanneboleynfiles.com/products-page/tudor-jewellery-accessories/the-hever-collection-2010/, I got to wear it all at Hever!