Posted By Claire on January 22, 2015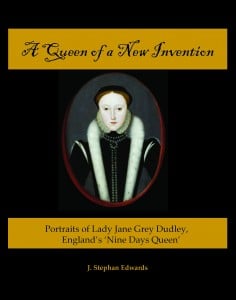 Congratulations to Dr J. Stephan Edwards on the release of his book A Queen of a New Invention: Portraits of Lady Jane Grey Dudley, England's Nine Days Queen. Although it's official release date is 12 February, the anniversary of Lady Jane's execution, Amazon.com have it in stock right now – click here to view its Amazon.com page or click here to pre-order on Amazon UK.
I haven't got my copy yet but I can't wait to read it as I have followed Stephan's research on his blog www.somegreymatter.com/.
Stephan has kindly shared some of his research and some beautiful portraits in a feature article for February's Tudor Life magazine, the Tudor Society's monthly magazine. The February issue has a special Lady Jane Grey/Grey Family themed section featuring articles from Susan Higginbotham, Tamise Hills and Elizabeth Fremantle so another bumper issue! You can find out more about the Tudor Society at www.tudorsociety.com/