New Catherine of Aragon Biography
Posted By Claire on November 4, 2010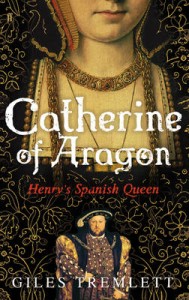 Today sees the release in the UK of Giles Tremlett's "Catherine of Aragon: Henry's Spanish Queen", the first biography of Catherine of Aragon since Garrett Mattingly's 1963 book. I was fortunate enough to be sent an advance copy of this book and I have been devouring it. It is a fantastic read and really helps you to understand why Catherine fought for her marriage and the rights of her daughter.
In his book, Tremlett does not simply retell Catherine's story by concentrating on her marriage to Henry VIII, he goes right back to 1468 when Catherine's mother, Isabel de Trastámara, was proclaimed the future queen of Castile, a defining moment in Spanish history, and looks at Catherine's early life in Spain, the context in which she was brought up.
You can read more about this wonderful biography, and my thoughts on it, in my review "Catherine of Aragon: Henry's Spanish Queen" over at our Tudor book review site. The good news for Americans is that this book is due for release in the USA on 23rd November.