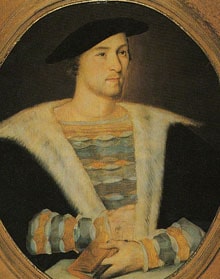 Apologies for my absence over the past few days, but thank you so much to Sarah Bryson from the Anne Boleyn: From Queen to History Page for the seventh part of her series on Mary Boleyn…
On June 22nd 1528 tragedy struck. Mary's husband William Carey became gravely ill and sometime during that fateful day he died of the sweating sickness. The sweating sickness had first struck in the 15th century and appeared on and off, one of the worst times being in 1528. The symptoms appeared to be something like influenza or pneumonia, with the patient having pains and aches all over the body, headaches, a great thirst and also breaking out in a horrible sweat.
Many people that caught the sweat were dead within twenty four hours. It is unknown where William Carey was buried; Alison Weir suggests that it may have been in a mass grave in which others who had died of the sweat were also buried. This could be plausible considering the fear and worry that existed about catching the sweat during the time. Unfortunately there are no records or details which tell of Mary's feelings towards the death of her husband. Nonetheless it was a great loss for Mary as she was now a widow with two young children and little means of supporting herself. From this time until 1534 it is difficult to track Mary's whereabouts and there are very few records as to her activities.
Upon William Carey's death Mary Boleyn was not only left a widow but she had little means of supporting herself without a husband. In addition to this, Josephine Wilkinson in her book "The True Story of Henry VIII's Favourite Mistress" states that Mary's father, Thomas Boleyn, turned his back on his oldest daughter as she was no longer mistress to the King and therefore not a means of advancement for the family. One cannot say for certain what Thomas Boleyn's feelings were regarding his son-in-law's death or the feelings towards his newly widowed daughter. Perhaps if Mary had once been the mistress of King Francois I of France Thomas was ashamed of her behaviour and that is why he all but disowned her. Or maybe he was upset that she had been unable to hold the attention of the English King for longer. Maybe he was disappointed that Henry VIII did not recognise either of Mary's children as his bastards. Maybe he saw little prospects of an advantageous marriage for Mary now that she was in her late twenties. Or maybe he simply put his efforts and attention towards his second daughter Anne who was by now the mistress to Henry VIII. Once again this is all speculation and we do not, and perhaps may never, fully understand the reasons why Thomas Boleyn did not willingly support his newly widowed daughter.
The months following her husband's death must have been a difficult time for Mary. It would appear that Mary appealed to the King for assistance as Henry VIII wrote a letter to his mistress Anne Boleyn, Mary's sister. In the letter he states that…
"As touching your sister's matter, I have caused Walter Welze to write to my Lord [Viscount Rochford] my mind therein, whereby I trust that Eve shall not have power to deceive Adam; for surely, whatsoever is said, it cannot so stand with his honour but that he must needs take her his natural daughter now in her extreme necessity." (Wilkinson 2010, p. 114).
In addition to this letter Henry VIII also granted the wardship of Mary's son Henry Carey, to her sister Anne. Although this may seem unusual for a child to be taken away from his mother in today's age, it was quite common during the Tudor period. It also meant that Mary no longer had the pressure or financial burden to provide for her son. Instead Mary's sister, who was in a better financial state as the mistress to the King, would be able to provide a suitable education and upbringing for the young Henry Carey. It is unknown what happened to Katherine Carey, oldest daughter of William and Mary. It is very probable that she stayed with her mother during the period following her father's death.
Frustratingly we do not know where Mary Boleyn lived during the period following her late husband's death. In her book "Mary Boleyn: The Mistress of Kings" Alison Weir proposes that Mary returned to her home in Hever Castle. This may have been an awkward time for Mary if she only begrudgingly had the support and assistance from her father. The thoughts and feelings of Elizabeth Boleyn, Mary's mother, regarding her oldest daughter are unknown. We do not know if she accepted her daughter back with loving arms or if she showed the same cold hostility as her husband did to their oldest child. Once again if only one small record had been left then perhaps a whole new understanding of this time may be relieved!
No word is made of Katherine but it is presumed that she stayed to be raised by her mother, quite possibly at Hever Castle. Mary was luckily granted an annuity of £100 on December 10th 1528 by the King which had previously been granted to her husband. This provided Mary with a financial means to support herself and her young daughter.
There seems to be little written about Mary's life during the period between 1528 and 1534 and certainly there are no records or letters stating Mary's feelings towards her younger sister Anne. During this six year period Anne Boleyn went from being the mistress of the English King to being created the Marquis of Pembroke on the 1st September 1532. In addition to being granted this title, the appointment also gave Anne lands worth £1000 a year. Then in January 25th 1533 Henry VIII and Anne Boleyn married and within sixth months of their marriage Anne Boleyn was crowned Queen of England. In September of the same year Anne gave birth to a daughter whom was named Elizabeth and who was at the time the only legitimate heir to the English throne. It is unknown how Mary felt about her sister becoming the mistress of Henry VIII, or her feelings towards her sister's rise and eventual crowning as Queen of England. Alison Weir proposes that Mary may have been jealous of her younger sister Anne having been raised so high by the King. Yet we cannot state this for certain. Mary may have been jealous or she may have simply accepted her position in life and even been happy to see her sister so happy. Certainly to be sister to the Queen of England was an impressive position to have! And maybe, just maybe that sometime during 1533 Mary was finding her own true love!
Mary does appear briefly in November 1530 when records show that Henry VIII gave Anne £20 to retrieve a jewel from her sister. How Mary came about this jewel, and why Henry VIII wanted it back is unknown.
During the New Year's celebrations of 1532 Mary is reported to have given Henry VIII a gift of a shirt with a blackwork collar. It could very well be that Mary stitched the collar herself as sewing would most likely have been a skill she would have been taught as a child. In return Henry gave Mary a piece of gilt plate. Alison Weir suggests that having received such a fine gift Mary may have been back at court as one of her sister's attendants. Certainly this could be possible as Anne was rising higher and higher in the King's affections and by this time was commonly lodged close to him with her own attendance. It would not be unusual at all for Anne to choose her own sister to be one of her ladies in waiting.
We can also place Mary in October 1532. It is known that Mary accompanied her sister Anne and King Henry VIII to France in late 1532 when they went to meet King Francis I. Records state that Mary was one of the ladies participating in a masquerade to entertain the French King in a banquet held on October 27th. In fact during the masquerade Mary followed directly behind her sister Anne, giving her precedence over the other ladies in the dance.
Mary also appears again during her sister Anne's coronation on June 1st 1533. During the procession Mary rode in the third coach behind Anne with their mother Elizabeth and she wore a dress made of seven yards of scarlet velvet. Records also show that during the coronation ceremony Mary attended her sister wearing a gown of scarlet velvet and an ermine cloak and bonnet. It is also believed that after her sister's marriage to the King, Mary continued to be a lady in waiting to Anne, now the Queen Consort of England.
For the next year Mary appears to slip into obscurity. Then sometime during 1533 or 1534 she must have left court for a period of time because when she returned in 1534 she was to cause quite a scandal! Upon her return to court Mary informed her sister the Queen that she had married and in addition to this she was also pregnant by that man. With her marriage Mary had done the unthinkable, she had taken a husband without the knowledge or consent of her family. Not only this, but the man that she had chosen for her husband was far beneath her family's status. The man she had chosen was William Stafford, a soldier in the garrison at Calais and a gentlemen usher to King Henry VIII. William Stafford was also distantly related to Edward Stafford, the third Duke of Buckingham whom had been beheaded for treason in 1521.
To add to the mystery of Mary Boleyn there is little known about William Stafford's early life. He is believed to have been born in approximately 1512, making him about twelve years younger than Mary. He was reported to have been from Gafton but was most likely born in the village of Cottered. Having an older brother meant that William was not in line to inherit any property or money from his father's death, in fact he may have had very little to show for his name besides his position as a soldier and a gentlemen usher to the King. He may have been very fit and strong being a soldier at Calais and one can assume he must have had some good looks about him to attract the attention of an older woman.
In 1527 it was reported that William was hired to search various barns and stacks in Berkshire looking for hidden corn stocks. Then in April 1529 William and a friend Richard Andrews, are reported to have purchased the lands and marriage wardship of William Somer. In November of the same year Henry VIII personally appointed William for the position as joint sheriff of Oxfordshire and Berkshire.
Frustratingly we do not know when William and Mary first met. Records state that William was present at the coronation of Anne Boleyn, perhaps as an attendant during the feast, but what exactly his role was is uncertain. It could have been here that William and Mary met as we know that Mary was in attendance to her newly crowned sister. Or perhaps it was earlier in late 1532 when Mary travelled in attendance with her sister and the King to Calais for a meeting with King Francis I. By this time William had become a soldier and took the opportunity to move from England to Calais. It could have been during this time that William and Mary first met. Arthur Plantagenet, Viscount Lisle was the Deputy Governor of Calais and seems to have shown trust in William Stafford as the young man was sent on various missions to England. It could have been during these various trips to England that William and Mary continued their relationship.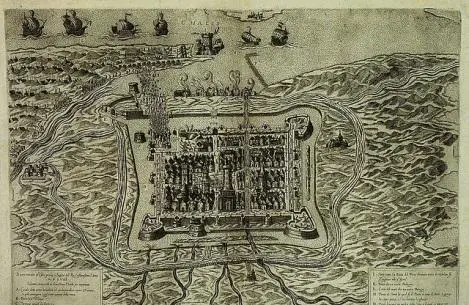 Whenever William and Mary did meet their relationship grew to the point where they fell in love and married. Unfortunately William Stafford had little to offer Mary, sister to the Queen of England. He had no royal title, nor lands or vast inheritance. In choosing William for a husband Mary had married beneath her status. Despite being around thirty four years of age, her father may still have made an advantageous marriage for her. Or perhaps her sister could have organised a marriage since as the Queen of England she was now the head of the Boleyn family. In short it was not Mary's responsibility to find herself a husband, it was her family's. She had taken no regard to her sister or even the King's wishes and this caused great anger from Mary's sister Anne. Not only this, but now the brother-in-law to the King of England was no more than a mere soldier! It may also be that Anne was frustrated and jealous that her sister was pregnant while she had only been able to give the King a daughter and not the son and heir he so longed for. Of course this is just speculation but whatever the exact reason for Anne Boleyn's anger it vented itself in Mary being banished from court.
On the 19th December 1534 Eustace Chapuys, Ambassador for Charles V wrote to his master stating:-
"The Lady's sister [Mary] was also banished from Court three months ago, but it was necessary to do so, for besides that she had been found guilty of misconduct, it would not have been becoming to see her at Court enceinte [pregnant]." (Wilkinson 2010, p. 148).
When banished the money situation became very tight for Mary and her husband. Mary's father Thomas Boleyn had not only disowned Mary but he had also stopped her allowance. It may also be that the £100 annuity that Henry VIII had granted Mary upon her first husband's death was also stopped. It is not known where William and Mary went after their banishment from court. Alison Weir suggests that the couple went to William's father's home in Cottered. Certainly Mary would not have been allowed back to her childhood home at Hever. With money becoming desperate Mary wrote to Thomas Cromwell, right hand man of the King, asking for help:-
"Master secretary,
After my poor recommendations, which is smally to be regarded of me, that I am a poor banished creature, this shall be to desire you to be good to my poor husband and to me. I am sure it is not unknown to you the high displeasure that both he and I have, both of the king's highness and the queen's grace, by reason of our marriage without their knowledge, wherein we both do yield ourselves faulty, and do acknowledge that we did not well to be so hasty nor so bold, without their knowledge. But one thing, good master secretary, consider, that he was young, and love overcame reason; and for my part I saw so much honesty in him, that I loved him as well as he did me, and was in bondage, and glad I was to be at liberty: so that, for my part, I saw that all the world did set so little by me, and he so much, that I thought I could take no better way but to make him and to forsake all other ways, and live a poor, honest life with him. And so I do put no doubts but we should, if we might once be so happy to recover the king's gracious favour and the queen's. For well I might have had a greater man of birth and a higher, but I assure you I could never have had one that should have loved me so well, nor a more honest man; and besides that, he is both come of an ancient stock, and again as meet (if it was his grace's pleasure) to do the king service, as any young gentleman in his court.
Therefore, good master secretary, this shall be my suit to you, that, for the love that I well know you do bear to all my blood, though, for my part, I have not deserved it but smally, by reason of my vile conditions, as to put my husband to the king's grace that he may do his duty as all other gentlemen do. And, good master secretary, sue us to the king's highness, and beseech his highness, which ever was wont to take pity, to have pity on us: and that it will please his grace of his goodness to speak to the queen's face for us; for, so far as I can perceive, her grace is so highly displeased with us both that, without the king be so good lord to us as to withdraw his rigour and sue for us, we are never like to recover her grace's favour: which is too heavy to bear. And seeing there is no remedy, for God's sake help us; for we have now been a quarter of a year married, I thank God, and too late now to call that again; wherefore it is the more alms to help. But if I were at my liberty and might choose, I ensure you, master secretary, for my little time, I have tried to much honestly to be in him, that I had rather beg my bread with him than to be the greatest queen in Christendom. And I believe verily he is in the same case with me; for I believe verily he would not forsake me to be a king.
Therefore, good master secretary, seeing we are so well together and does intend to live so honest a life, though it be but poor, show part of your goodness to us as well as you do to all the world besides; for I promise you, you have the name to help all them that hath need, and amongst all your suitors I dare be bold to say that you have no matter more to be pitied than ours; and therefore, for God's sake, be good to us, for in you is all our trust.
And I beseech you, good master secretary, pray my lord my father and my lady to be so good to us, and to let me have their blessings and my husband their good will; and I will never desire more of them. Also, I pray you, desire my lord Norfolk and my lord my brother to be good to us, I dare not write to them, they are so cruel against us; but if, with any pain that I could take with my life, I might win their good wills, I promise you there is no child living would venture more than I. And so I pray you to report by me, and you shall find my writing true, in all points which I may please them in I shall be ready to obey them nearest my husband, whom I am most bound to; to whom I most heartily beseech you to be good unto, which, for my sake, is a poor banished man for an honest and godly cause. And seeing that I have read in old books that some, for as just causes, have by kings and queens been pardoned by the suit of good folks, I trust it shall be out chance, through your good help, to come to the same; as knoweth the (Lord) God, who send you health and heart's ease. Scribbled by her ill hand, who is your poor, humble suitor, always to command,
Mary Stafford." (Wilkinson 2010)
Mary's letter shows us that she was a literate woman who knew how to read and write. But her letter gives us a deeper insight than just this into the type of woman that Mary was and why she decided to defy the rules and marry William Stafford. In her letter Mary humbles herself and acknowledges that her action of marrying William was considered to be wrong. She also recognises that she has brought the King and Queen's displeasure upon herself and her husband.
Moving on from this Mary also states her case, saying that William was in love with her and she saw such love and honesty in him that she in return fell in love. Her feelings of love continue when she states that she would not wish to marry another even if they were to raise Mary to the greatest queen in Christendom. Instead she would be content to beg for bread as long as it was with her beloved William. She also stresses that William also feels this way about her. She writes that she was in bondage and that by marrying William she found freedom. This could very well refer to the attitude of her family towards her during her widowhood. After the death of her first husband it is clear that Thomas Boleyn did not wish to assist or support his daughter and the tension within the family may have left Mary feeling as though she was not wanted and trapped.
Mary praises her husband and although he is from a low birth and has little to give her he is a good man who loves her deeply. Mary implores Thomas Cromwell for assistance, seeking that he may intervene on her behalf with the King and Queen so that they may take pity upon Mary and her husband. It is also interesting to note that Mary openly acknowledges how angry her sister is with her and that she is deeply upset by this. She writes that all she wishes is for her sister and father's blessings as well as that of her brother George and her uncle the Duke of Norfolk. It is interesting to note that Mary writes of how cruel her brother and Uncle were towards her. We do not know exactly how they were cruel or what their actions were towards their sister and niece. Yet it is interesting to note that despite their great cruelty Mary still wished for their blessings. This may be because she wished to be back in her sister's good graces or quite simply she just wished for the love of her family.
The letter also asks for financial assistance, which hints at the fact that Mary's allowances had been cut off and the couple were struggling financially. Finally Mary ends her passionate letter asking for Thomas Cromwell to fight for her cause and seek help for herself and her husband. The letter is poignantly signed Mary Stafford.
If Thomas Cromwell replied to Mary's letter the reply no longer exists. There are also no records of Cromwell or the King providing assistance for Mary and her husband. However it is reported that Anne sent Mary some money and a golden cup. This small action may hint at the fact that Anne was not as jealous or angry at her older sister as some may suggest. It is a small gift, but one that certainly must have had some meaning behind it.
Mary's whereabouts and actions between her banishment from court in 1534 to the fall of her sister and her brother in May 1536 are not recorded. It may be that Mary returned with her husband to Calais where he continued to be a soldier and to serve Viscount Lisle. In 1539 William was appointed as one of the members assigned to welcome Anne of Cleves, Henry VIII's fourth wife, to Calais. If Mary and William did return to Calais it may have been a place of quiet comfort for Mary, being away from her family and seeking peace in the love of her husband. Whatever happened to the child that Mary was pregnant with is unknown. Perhaps she miscarried; perhaps the child was stillborn or died at a young age, whatever the case Mary was to have no more children with William Stafford.
It does appear that during this time Anne Boleyn continued be the guardian of Mary's son Henry and provided him with a good education. Anne appointed a tutor for Henry Carey, a man named Nicholas Bourbon who was a French humanist and a poet. He had been granted asylum in England and was known to have evangelical beliefs. Bourbon's friends were influential men such as Thomas Cromwell, Hugh Latimer and Hans Holbein.
Mary Boleyn became a widow on June 22th 1528 with the death of her husband William Carey. She appears from time to time over the next six years, appearing at court attending upon her sister the future Queen Consort of England. Then in 1534 Mary did the unthinkable, she defied her family and the expectations of the time and married for love. Mary's passionate and powerful letter written to Cromwell after her banishment clearly shows her deep and strong feelings towards her new husband William Stafford, and in return the mutual feelings that William had for his wife. Although so little is known about Mary's life this one letter is perhaps the most powerful and valuable piece of evidence to truly show the type of woman that Mary was. Clearly she was a woman whom was brave and strong enough to defy the rules of the time. She appears to have believed so strongly in love that she took the greatest risk and followed her heart, marrying not for status or power or for the advancement of her family, but simply for true love.
You can read Sarah's other articles by clicking on these links:-
Sources
Castelli, J, 'Sir William Stafford of Grafton', viewed 25th November 2011, Available from internet http://www.tudorplace.com.ar/Bios/WilliamStafford1.htm.
Erickson, C 1984, Mistress Anne, St. Martin's Press, New York.
Jones, P 2009, The Other Tudors Henry VIII's Mistresses and Bastards, Metro Books, New York.
Ives, E 2009, The Life and Death of Anne Boleyn, Blackwell Publishing, Oxford.
Ridgway, Claire 2010, 'Sweating Sickness', viewed 25th November 2011, Available from internet https://www.theanneboleynfiles.com/6214/sweating-sickness/.
Ridley, J 2002, A Brief History of The Tudor Age, Constable & Robison Ltd., London.
Weir, A 2011, Mary Boleyn: The Mistress of Kings, Ballantine Books, New York.
Wilkinson, J 2010, Mary Boleyn The True Story of Henry VIII's Favourite Mistress, Amberley Publishing, Gloucestershire.