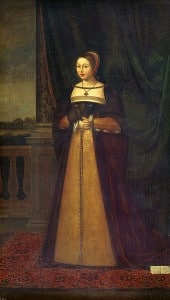 Thank you so much to Heather R. Darsie for writing this article, which is the first in a series of three. I'm late in posting it due to being on holiday but I'm sure you'll enjoy finding out a bit more about Margaret.
Over to Heather…
In celebration of Margaret Tudor's marriages – first to King James IV of Scotland on 8 August 1503 and then to Archibald Douglas, 6th Earl of Angus on 6 August 1514 – we are going to take a look at the three phases of Margaret's life, beginning with her time as a Tudor princess.
Margaret Tudor, Queen of Scots, was born on 28 November 1489 at the Palace of Westminster. Margaret was the eldest surviving daughter of Henry VII of England and Elizabeth of York, and a mere eighteen months older than her infamous brother, Henry VIII of England. Margaret spent the first thirteen years of her life in England, where she was surrounded by luxury and by beautiful gothic architecture, to which she became accustomed. Margaret was immediately treated to the very best life had to offer as a Tudor princess – Her cradle was made of oak, which was lined with ermine (the fur from a white stoat, which is a weasel-like animal) and adorned with cloth-of-gold. Her education was led by her formidable, Lancastrian paternal grandmother, Lady Margaret Beaufort. Margaret appears to have possessed a solid intellect and zest for life.
As a young lady at the English court, Margaret participated in the newly-created Tudor pageantry. She was known to enjoy dancing, card games, and archery. Margaret learned to play the lute and clavichord. The clavichord is a stringed instrument with a keyboard, not unlike a piano. Here is a link to a piece by Bach, played on a clavichord: https://www.youtube.com/watch?v=9WuVVE2t-Vk
Margaret spoke Latin and French, as well. This combination of skills and her relationship with Lady Margaret Beaufort helped shape Margaret as not only an engaging princess, but also a strong future queen.
Margaret was betrothed to James IV of Scotland in an effort to bring peace and security to the bordering countries. James IV was a brilliant and charismatic man, whose country boasted three universities at a time when England had only two. James IV also had several poets attending his court, such as William Dunbar, David Lindsay and Gavin Douglas. Like Margaret's brother Henry VIII, James IV idolized the legendary King Arthur and his chivalric ways.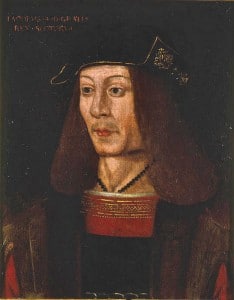 Following quickly after the marriage of Katherine of Aragon and Prince Arthur of England, the betrothal between Margaret Tudor and James IV was celebrated at Richmond Palace. Shortly thereafter, Margaret married James IV by proxy, declaring upon the exchange of vows:  
"I, Margaret, the first begotten daughter of the right excellent, right high and mighty prince and princess, Henry by the Grace of God king of England, and Elizabeth queen of the same, wittingly and of deliberate mind, having twelve years complete in age in the month of November last past, contract matrimony with the right excellent, right high and mighty prince, James king of Scotland, and the person of whom, Patrick earl of Bothwell, procurator of the said prince, represents, and take the said James king of Scotland into and for my husband and spouse, and all other for him forsake, during his and mine lives natural, and thereto I plight and give to him, in your person as procurator aforesaid, my faith and troth."
Considering that Margaret was only twelve years old at the time, this speech shows that Margaret had an excellent capacity for public speaking. Although not known for her love of scholarship, it would appear that Margaret had a sharp mind and a talent for eloquence, both excellent traits for a queen of the stalwart country of Scotland. After the wedding ceremony, Margaret and her mother, Queen Elizabeth of York, sat next to each other on the royal English dais and enjoyed feasting for the next several days.
Margaret Tudor set out for her new home on July 2, 1503. She briefly visited with her presumed namesake and paternal grandmother, Lady Margaret Beaufort, at Collyweston. An account of Margaret's progress north is given by Tudor citizen Richard Grafton, who recalled that:
"[…] this fair lady was conveyed with a great company of lords, ladies, knights, esquires and gentlemen until she came to Berwick and from there to a village called Lambton Kirk in Scotland where the king with the flower of Scotland was ready to receive her, to whom the earl of Northumberland according to his commission delivered her…
"Then this lady was taken to the town of Edinburgh, and there the day after King James IV in the presence of all his nobility married the said princess, and feasted the English lords, and showed them jousts and other pastimes, very honourably, after the fashion of this rude country. When all things were done and finished according to their commission the earl of Surrey with all the English lords and ladies returned to their country, giving more praise to the manhood than to the good manner and nature of Scotland."
After arriving in Scotland, Margaret and James IV were officially wed on 8 August 1503. Their nuptials took place at the chapel of Holyroodhouse. Margaret wore a beautiful gown trimmed in satin, and James IV wore a coordinating outfit of white damask with crimson sleeves. A brief coronation for Margaret was held quickly after the wedding. James IV, affectionate from the start, held a magnificent feast until he and Margaret retired for the night.
Margaret Tudor, Queen of Scotland even inspired a bit of poesy by the resident poets of her new husband's court. A song written about her includes the lyrics:
"Sweet lusty lusum (fair) lady clere (bright),
Most myghty kyngis dochter dere,
Borne of a princess most serene,
Welcum of Scotlond to be queen."
Margaret enjoyed an affectionate marriage with James IV and went on to bear six children. Sadly, only one survived to adulthood; namely, James V. However, life was not to be all easiness and joy for Queen Margaret.
News: 1460 Northampton Battlefield under threat – You can help!
Can you help save an historic location from being turned into a car park? Click here to read more about this.
Sources and Further Reading
Hanson, Marilee. Margaret Tudor Queen of Scotland Facts, Biography & Information. http://englishhistory.net/tudor/relative/margaret-tudor/ Retrieved 02 August 2015.
Margaret Tudor Queen of Scotland. http://tudorhistory.org/people/margaret/ Retrieved 03 August 2015.
Cavendish, Richard. Marriage of James IV of Scots and Margaret Tudor. History Today, vol. 53 issue 8. August 2003.
Tasioulas, J. A., ed. The Makars, Caongate (1999).
Marshall, Rosalind K. Scottish Queens. Tuckwell Press (2003).
Bain, Joseph, ed. Calendar of Documents relating to Scotland, 1357-1509, vol. 4, HM Register House, Edinburgh (1888).
Lenz, Harvey Nancy. The Rose and the Thorn: The Lives of Mary and Margaret Tudor, Macmillan (1975).