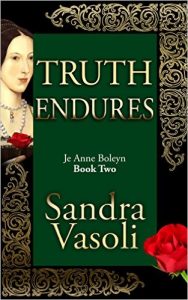 I know many of you enjoyed Sandra Vasoli's first 'Je Anne Boleyn' novel, Struck with the Dart of Love, so you will be happy to know that the sequel, Truth Endures, is available to pre-order now as a kindle book for release on 19th May. The paperback will also be released on that day.
Truth Endures has been published by MadeGlobal Publishing and they have also taken on the first novel. A revised version is available to pre-order now and will be released on 19th May.
Here is the blurb for Truth Endures: Je Anne Boleyn Book 2:
On 1st June 1533, the ancient, traditional rituals of coronation are carried out, and Anne Boleyn emerges as Queen Anne Boleyn, a queen destined to rule alongside her husband, King Henry VIII of England.
It's the culmination of everything the couple have worked for and the reward for their perseverance. And Anne is pregnant. They fervently believe that she is carrying Henry's longed-for son and heir. The entire world lies at Anne's feet.
But being queen is not easy. Anne is determined to be a loving mother, devoted wife, enlightened spiritual reformer, and a wise, benevolent queen. But others are hoping and praying for her failure. Her status and very life become precarious as people spread downright lies to advance their objectives.
But the truth will endure. This story is Anne's truth.
Book Two of Sandra Vasoli's Je Anne Boleyn series is a gripping account of Anne's effort to negotiate her position in the treacherous court of Henry VIII, where every word uttered might pose danger, where absolute loyalty to the King is of critical importance, and in which the sweeping tide of religious reform casts a backdrop of intrigue and peril. The story is recounted in Anne's clear, decisive voice, leading to an unforgettable conclusion.
Release date: 19 May 2016
Kindle ASIN: B01F2EMP1A
Paperback ISBN: 978-8494489372
Go to http://getbook.at/truthendures for more information.
Here are the details for Book 1 which has been revised and republished: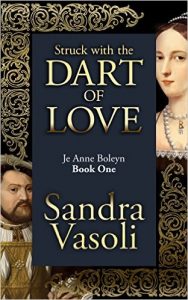 In a love letter to Anne Boleyn, Henry VIII wrote: "It is absolutely necessary for me to obtain this answer, having been for above a whole year stricken with the dart of love, and not yet sure whether I shall fail of finding a place in your heart and affection…", but did Anne ever feel that way about the King?
Tradition tells us that Henry pursued Anne for his mistress and that she resisted, scheming to get the crown and bewitching him with her unattainable allure. Nothing could be further from the truth.
One cold, misty grey day while hunting, Henry and Anne come face to face. It is an encounter that changes everything as Anne, too, is struck by the dart of love. He is powerful and graceful, elegant and witty, and in the King, she finds a passionate consort. But he is married – and the path to their union is fraught with hazard. Only the greatest of commitments will allow them to persevere until they might hope to be together.
The first novel from Sandra Vasoli's Je Anne Boleyn series is a compelling memoir, narrated in a richly detailed, authentic voice, which depicts one of the most exceptional women in the history of England: Anne Boleyn. It is at once romantic, eloquent, and insightful. In Book One of this two-part series, the reader will come to know Anne as an intimate friend.
Previously published in 2014, revised edition due for release 19 May 2016.
Kindle ASIN: B01F2E92U2
Paperback ISBN: 978-8494489365
Go to http://getbook.at/dartoflove for more information.