Henry VIII Marries Anne Boleyn – 25th January 1533
Posted By Claire on January 25, 2011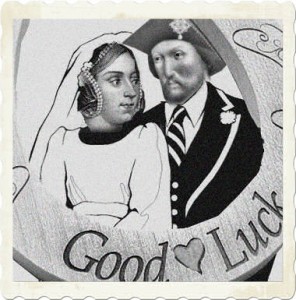 On this day in history, 25th January 1533, Henry VIII married Anne Boleyn. Alison Weir writes of their marriage in her book "The Six Wives of Henry VIII":-
"Just before dawn, on the morning of the 25 January 1533, a small group of people gathered in the King's private chapel in Whitehall Palace for the secret wedding of the King to Anne Boleyn. The officiating priest was either Dr Rowland Lee*, one of the royal chaplains, or – according to Chapuys – Dr George Brown, Prior of the Austin Friars in London and later Archbishop of Dublin… There were four, possibly five, witnesses, all sworn to secrecy: Henry Norris and Thomas Heneage of the King's privy chamber, and Anne Savage** and Lady Berkeley, who attended Anne. William Brereton, a groom of the chamber, may also have been present."
According to Eric Ives, the marriage was kept so secret that even the gossipy Imperial ambassador, Eustace Chapuys, did not hear about it until months after. Chapuys wrote to his master, Charles V, on the 31st March 1533, saying, "It is expected that the new marriage will be solemnised before Easter or immediately after, for all the necessary preparations are already in order, the royal estate of the lady is already made, and nothing remains but to publish it." Little did he know that the couple were already married, that their union had already been consummated (probably on their trip to France or on their arrival home in November 1532) and that Anne was pregnant. What gossip he was missing!
St Erkenwald's Day 1532
As I have written before, the 25th January 1533 is not the only date out forward as a wedding date for Henry VIII and Anne Boleyn, the Tudor chronicler, Edward Hall, wrote that the couple actually got married on Thursday 14th November 1532, St Erkenwald's Day:-
"The kyng, after his returne [from Calais] maried priuily[privily] the lady Anne Bulleyn on sainet Erkenwaldes daie, whiche mariage was kept so secrete, that very fewe knewe it, til she was greate with child, at Easter after."
St Erkenwald's Day was the day after Anne and Henry returned from their trip to Calais to see Francis I, a visit where Anne had been treated as Henry's consort and the couple had been given Francis I's blessing, and, as David Starkey points out, "To have gone back to England and chastity must have seemed intolerable – both to her and to Henry" after they had been living as King and Queen in France.
Edward Hall is not the only person to give this date for their secret marriage; the Catholic recusant, Nicholas Sander, also wrote, during the reign of Elizabeth I, that Henry VIII had married Anne Boleyn on the 14th November. Protestants during Elizabeth's reign latched on to this date because it meant that their queen had been conceived within wedlock, after all, a birthdate of 7th September 1533 suggests a conception date of between 11th and 19th December 1532, although it does depend on whether Elizabeth was premature, which she probably was when you consider that Anne entered her confinement on the 26th August.
A Tale of Two Weddings
But both dates could be valid, as David Starkey points out in his book. He writes of how Anne Boleyn "wanted to make sure that her own title as Queen would be unimpeachable" and that she wanted to make sure that everything was done following the format laid out in "the bible of ceremony known as 'The Royal Book'." Starkey wonders if Anne saw herself as a foreign princess "sailing to English soil [from her visit to her former home, France] where soon she would be crowned":-
"It was just as 'The Royal Book' prescribed. What more natural therefore than to marry Henry as soon as they landed? And 'privily' – as The Royal Book permitted and the fact that Henry was still married to Catherine required?"
So, the couple married in Kent on St Erkenwald's Day, shortly after landing on English soil and Starkey points out that it must have been a proper marriage "with a priest, a ring and the exchange of vows" for Anne to surrender her virtue to Henry. Of course, the marriage made Henry a bigamist, but Anne had what she wanted and needed, a sacred vow and promise, and now Henry could get what he wanted too!
But why the extra January wedding?
Although the couple had been co-habiting since their arrival back in England, nothing was official, their wedding had been kept secret. The problem, in January 1533, was that Anne Boleyn was pregnant. Something had to be done!
But Henry had no papal licence to allow him to take another wife. David Starkey writes of how Dr Rowland Lee demanded the licence from Henry, who replied that it was somewhere safe and he could not go and get it that early in the morning. When Lee pressed him further, Henry said, "Go forth in God's name and do that which appertaineth to you and I will take upon me all other danger." David Starkey feels that this altercation between the two men and, in fact, the whole wedding ceremony "was a carefully contrived performance":-
"The first marriage in November had been designed to reassure Anne. The second, with its half-invocation of Papal authority was intended to reassure Henry's subjects. When news of it leaked, which it quickly did, it would suggest that Henry had received the nod from Rome."
As I have said already, the second wedding was also a secret affair, rather than the sumptuous state occasion that Anne may have been looking forward to, but David Starkey believes that news of this ceremony was purposely leaked so that the marriage was accepted by the people and Anne was accepted as queen.
David Starkey concludes that:-
"The marriage thus forms part of the great game of 1533 in which Henry decided to get his Divorce by deceiving everybody: Rome, his English subjects and even his French allies. The game was for the highest stakes and he played it well."
Henry wanted a legitimate male heir and he wanted Anne Boleyn, nothing would stand in his way and he had waited too long already. He truly believed that his first marriage was not valid so his marriage to Anne, whatever the Pope thought, was valid and when Anne became pregnant so quickly, he must have thought that God was smiling down on them and blessing their union. However, just over three years later, Anne Boleyn was executed as a traitor and Henry was marrying for a third time.
Notes and Sources
The Six Wives of Henry VIII, Alison Weir, Chapter 10 "Happiest of Women".
Six Wives: The Queens of Henry VIII, David Starkey, Chapter 59 "Anne's Marriage" and 60 "Archbishop".
The Life and Death of Anne Boleyn, Eric Ives, p162-164
Hall's Chronicle, Edward Hall (d.1547), p794
LP vi.296, March 1533
Rise and Growth of the Anglican Schism, Nicholas Sander
*Historians like Alison Weir and David Starkey agree on Dr Rowland Lee being the most likely celebrant as he became Bishop of Coventry and Lichfield in 1534 and he is named in Nicholas Harpsfield's "Treatise on the Pretended Divorce Between Henry VIII and Catherine of Aragon", which was written during the reign of Mary I.
** David Starkey points out that Anne Savage later became Lady Berkeley, so Anne Boleyn, had only one attendant.