Happy Birthday Anne of Cleves!
Posted By Claire on September 22, 2012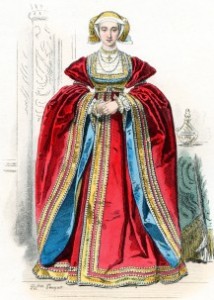 Today marks the 497th anniversary of the birth of Anne of Cleves, or Anna von Jülich-Kleve-Berg, fourth wife of Henry VIII.
Anne was born near Düsseldorf and was the second daughter of John III, Duke of Jülich, Cleves and Berg, an important German ruler, and Maria of Jülich-Berg. Her brother-in-law was John Frederick I, Elector of Saxony, who had established The Schmalkaldic League, an alliance of Lutheran Princes who were looking to establish a relationship with England. France and the Empire were becoming rather chummy in 1539, so an alliance with the League seemed a good idea and Henry married Anne on 6th January 1540. The marriage lasted six months, before it was annulled and Henry moved on to wife number five, Catherine Howard.
Like all of Henry VIII's wives, Anne had royal blood but not only was she descended from Edward I, she was also, on her father's side, closely related to Louis XII of France and the Duke of Burgundy.
You can read all about Anne in the following articles