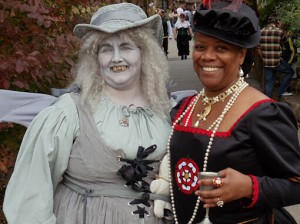 Yes, it's time for our annual Halloween Competition! I can't quite believe how quickly this has come around, time really does fly!
I'm always amazed at how much effort many of you go to with your costumes at Halloween, it really puts my black bin bag and pointed black paper hat to shame (ok, so I was a little kid!), and this competition works as a reward for your hard work and creativity, and also a thank you to those of you who have purchased parts of your costume from The Anne Boleyn Files shop.
The Prize
The winner of the Halloween Competition 2011 will receive a $20 voucher to use here at the Anne Boleyn Files and everyone who enters and sticks to the rules will receive a $5 coupon.
The Rules
Your costume must consist of at least one item that you purchased from The Anne Boleyn Files shop, either costume or jewelry, and it must be clearly visible in the photo.
You must email your photo, at claire@theanneboleynfiles.com, with your name and details of what item you have got on by the end of Saturday 5th November – This gives you a few days to get the photo off a friend's camera or phone and get it sent to me.
You must give me permission to post your photo on the site – It would be nice to do a slideshow of entries and of course display the photo of the winner.
The competition winner will be announced on Monday 7th November in a blog post and coupons will be sent out that week.
Note – You do not need to be dressed as Anne Boleyn to enter, just as long as you're wearing something from the Anne Boleyn Files.
So, are you dressing up? If so, who are you dressing up as? Please let me know as it's not really traditional here. Instead of dressing up and handling trick-or-treaters I'll be celebrating my daughter's 11th birthday, so I'll still be having fun.