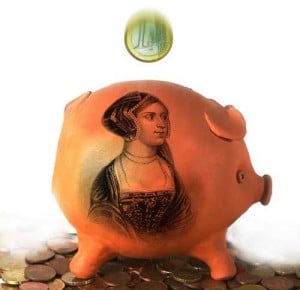 Books are expensive and it's tricky when you have a limited budget but need to research for a project, a book you're writing, or simply to satisfy your curiosity. You don't want to depend on just one book, you want to read around the subject and collect different views and opinions from different historians and authors. It's hard to do that without giving your credit card a complete battering. However, I have good news for you: there are lots of books which are now out of copyright and so are available to read on Google Books (Google Play) or websites like archive.org, and there are also free lots of free primary sources online.
Free resources
Old Books
Some old books need to be treated with caution. For example, Agnes Strickland's account of Anne Boleyn has Anne's mother dying young and Anne being brought up by her stepmother: untrue. However, they can be great resources when read alongside more up to date biographies and articles.
Archive.org has a search facility so you can look up Henry VIII, Elizabeth I, Tower of London etc. to find lots of other freebies.
Primary Source Documents
You will find the following primary sources useful for researching Anne Boleyn's life, the reign of Henry VIII and the lives of his Queens:-
Cheap Books
If you can only afford one book on Anne Boleyn then you can't go wrong with Eric Ives' "The Life and Death of Anne Boleyn", but if you have a Kindle then you can pick up each of my books on Anne for under $5 – The Fall of Anne Boleyn: A Countdown, The Anne Boleyn Collection, and The Anne Boleyn Collection II. See my author page (Claire Ridgway) at Amazon.com or Amazon.co.uk. Search Amazon for "Anne Boleyn" and you might just find other bargains too.
If you want cheap hard copies of books then look for used copies for sale on Amazon or Abe Books. You can sometimes get used copies for $0.01 plus postage. For my recommendations for Anne Boleyn books, see the Anne Boleyn Books page and you can also browse my review of History books at Tudor Book Reviews.