Focus on The Anne Boleyn Experience 2012
Posted By Claire on July 7, 2011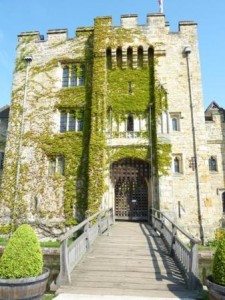 As I am just making the last preparations to leave on this year's Anne Boleyn Experience, I thought it would be good to highlight the fact that we are now taking booking for next year's Anne Boleyn Experience tours in May and September.
Regular visitors will know that we offer tours on an annual basis with our first tour at Hever last May being a runaway success. It was an amazing time and we were even in tears on the last day as we just didn't want to go home! This year we extended our tour offering to two tours: The Executed Queens Tour in May and the upcoming Anne Boleyn Experience. The Executed Queens Tour was split between Market Bosworth in the Midlands and Hever Castle in the south and included talks from historians John Guy, Leanda de Lisle and Eric Ives, and The Anne Boleyn Experience features talks from Eric Ives and costume expert Bess Chilver. I'm so excited about going back to Hever, there's nothing quite like waking up there, drawing back the curtains and looking at the castle grounds!
We launched our 2012 programme a few weeks ago and again we have extended our tours to offer a brand new tour, the Discover the Tudors Tour, which is an 8 night tour split between Leeds Castle, London and Stratford-upon-Avon and which visits a whole host of Tudor attractions, but, for now let's concentrate on The Anne Boleyn Experience…
The Anne Boleyn Experience Tour May 2012
In May 2012 The Anne Boleyn Experience will take attendees to Hever Castle in Kent, childhood home of Anne Boleyn, and the castle which was given to Anne of Cleves after the annulment of her marriage to Henry VIII. There is plenty of time to soak in the history and atmosphere of the surroundings and you can do things like go for a walk by the lake before breakfast or stroll around the Italian gardens. We even have the historian from Hever give us a private tour of the castle before it opens and we get to eat in the main castle dining room one evening. Being surrounded by portraits and tapestries is amazing!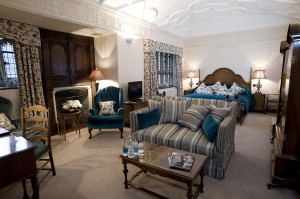 Highlights of The Anne Boleyn Experience in May 2012 include:-
Robert Parry, author of "The Arrow Chest" and "Virgin and the Crab", acting as tour leader (with Ruby Lawrence) and talking to the group on the first evening.
Three nights luxury accommodation at Hever Castle in the private Astor Wing
A full day at Hever – Enjoy the castle, gardens and St Peter's Church
Eating in the main castle dining room
Private guided tour of Hampton Court Palace followed by free time to see the bits you want to see or to get lost in the maze!
Champagne breakfast in the castle dining room on the 19th May, Anne Boleyn Day, to toast Anne's memory
Private guided tour of the Tower of London on Anne Boleyn Day, followed by free time and accommodation at the Guoman Tower Hotel in London for the final night
Guest speakers – Past speakers have included Elizabeth Norton, Eric Ives and costume expert Bess Chilver, 2012's speaker will be confirmed soon.
All this and all your food, wine, accommodation and transport during the tour included. Our tours are luxury tours aimed at giving everyone a truly magical and personal experience so next year's tours are limited to 20 people per tour.
Testimonials
"The Anne Boleyn Experience was the trip of a lifetime for a history geek like me. Getting to meet and talk to other Tudor enthusiasts, and walking in the footsteps of Anne Boleyn are memories I will cherish for a lifetime." Elizabeth, New York
"This is a tour of a lifetime. When do you get to stay in a castle? Everything about Hever Castle is wonderful; the accommodations, the food, the gardens, and you get to meet some of the nicest people in Britain! I enjoyed this tour very much and I appreciate all of the planning that went into it. These tours will become THE tour to do in Britain. I was on the First one!" Adele, Maryland
"Going on The Anne Boleyn Experience was everything I expected and more. It was filled with lovely people and fantastic history! And being able to stay at Hever, where Anne grew up was incredible! The food and staff at Hever were amazing and very helpful! I cannot say enough good things about this, if you're an Anne Boleyn fan – it's a must! Thank you thank you thank you! I can't say it enough!" Michelle, New York
Book Now
In order for this tour to go ahead next May it is essential that we know the interest now. Although it may seem like a long way away, we are already having to pay out deposits and book speakers so we need to know if this tour will be viable. Last year the tour sold out very quickly and this year's Executed Queens Tour sold out within a week of launch.
To book your place on The Anne Boleyn Experience, simply go to our "Book Now" page and secure your place with a £300 deposit per person. If you're not quite ready to book but are interested in the tour then please, please, please email us to express your interest – claire@theanneboleynfiles.com. You can find out full details of The Anne Boleyn Experience, our other tours, terms and conditions etc. at our sister site, www.HistoryToursofBritain.com.
We need to know the level of interest in this tour as soon as possible.