Posted By Claire on January 15, 2013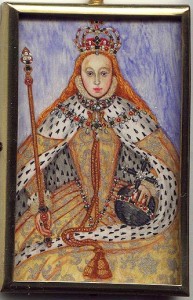 On this day in history, at midday on 15th January 1559, the 25 year-old daughter of Henry VIII and Anne Boleyn was crowned Queen Elizabeth I at Westminster Abbey by Owen Oglethorpe, Bishop of Carlisle.
Elizabeth I ruled England for over 44 years and her reign is known as "The Golden Age".
Trivia: Elizabeth incorporated many elements from Anne Boleyn's lavish 1533 coronation into her coronation – see A Tale of Two Coronations for more on that.
The following articles give more information on Elizabeth's coronation:
Picture: Roland Hui's miniature of Elizabeth I's coronation panel portrait. It can be purchased on our shop – click here.