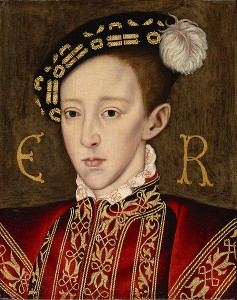 I can't quite believe how many anniversaries of Tudor events there have been in the past couple of weeks and here's another!
Yes, on this day in history, the 20th February 1547, Edward VI was crowned King of England at the tender age of nine.
You can find out more about the boy king, who never ruled in his right, by reading our "Edward VI" page but here are some Edward VI facts:-
Edward VI was the son of Henry VIII and Jane Seymour, Henry's third wife.
He was born on the 12th October 1537.
He never knew his mother because she died of puerperal fever less than two weeks after his birth.
Henry VIII set up a Council of Regency in his will to help his young son rule the country.
Both his uncles, Edward and Thomas Seymour, were executed.
Both of Edward's half-sisters, Mary and Elizabeth, became Queens of England.
Edward VI went against his father's will by writing his "Devise for the Succession", naming Lady Jane Grey as his heir and excluding Mary and Elizabeth from the succession.
Edward was a Protestant.
It was once thought that he was a sickly child and weak boy but many historians now discount this view.
It is not known what Edward VI died of – theories include Tuberculosis (consumption) or bronchopneumonia which led to further complications. It was once rumoured that John Dudley, Duke of Northumberland, had poisoned the boy.
Edward VI's reign is known for heralding in the English Reformation – the Book of Common Prayer was introduced, along with Thomas Cranmer's Forty-two Articles and the 1549 Act of Uniformity.
Edward VI has been called "The British Josiah" after the famous reformer John Calvin called him "our Josiah" in a letter in 1550. Calvin also likened Edward to Hezekiah, David and Joseph.
Edward died at the age of 15 on the 6th July 1553 at Greenwich Palace.
Edward was buried on the 8th August 1553 in the Henry VII Lady Chapel at Westminster Abbey – Mary I allowed a Protestant funeral, which was conducted by Archbishop Thomas Cranmer, but she attended a mass for him at the Tower of London.