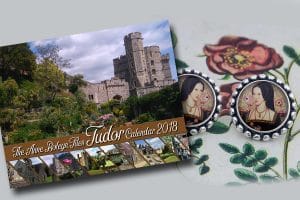 I've been holding off mentioning the "c word" as it seems far too early, but there are only just over 4 weeks until Christmas and time does seem to be flying!
Here at the Anne Boleyn Files, we always have a special advent calendar with lots of history-themed treats for you to enjoy on a daily basis. It will, of course, appear here on the site on 1st December and will run until 24th December. Lots of lovely authors, bloggers, historians, researchers and artists are involved this year so it looks set to be the best ever Anne Boleyn Files advent calendar. I am so grateful to them for being involved.
Do remember that we have lots of Tudor-themed goodies in our Anne Boleyn Files shop, from jewellery to t-shirts, from magnets to bags, and even an under $20 section and a stocking fillers category. All our products can be shipped worldwide. Click here to browse the shop.
And then there's the Anne Boleyn Files Tudor Calendar 2018! A wonderful stocking filler for the Tudor history lover in your life. It costs $10.99/£9.75/8.82€/AU$14.22 and can be shipped worldwide (prices vary according to currency and tax). Click here to order now – you can change the country of the Lulu store by going to the flag at the top right of the Lulu webpage and shipping is worldwide.