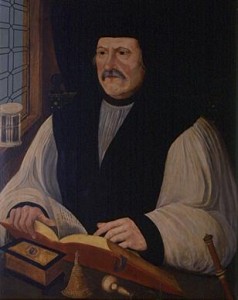 On this day in history, 6th August 1504, Matthew Parker, chaplain to Anne Boleyn and Archbishop of Canterbury to Elizabeth I, was born in the parish of St Saviour, Norwich. Parker was the son of worsted weaver William Parker and his wife Alice Monings [Monins] from Kent.
I have a real soft spot for Parker. He didn't want to be Elizabeth I's Archbishop of Canterbury at all, but he took the position because of a promise he'd made to Elizabeth's mother, Anne Boleyn, just days before her execution in 1536.
You can read all about this and about Parker himself in my article from 2014 – click here.