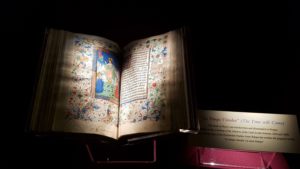 What a whirlwind couple of weeks I've had! I still haven't come back down to earth after the excitement of the Anne Boleyn Experience Tour and then living my dream and holding Anne Boleyn's Books of Hours at Hever Castle – wow!
I'm back home now and Tim and I will be putting together a second video on Anne Boleyn's Books of Hours, adding in photos that I took too, and I'll also be going through all of my photos from the Anne Boleyn Experience Tour and telling you more about my time on it. Watch this space, and also the Anne Boleyn Files YouTube Channel!
I'm not going to do it just yet as I'm a bit like a zombie and need to catch up on some sleep. The beds may be divinely comfortable at Hever Castle, but I'm so excited to be there that I just can't sleep! I just keep pinching myself!
Anyway, I thought I'd share the footage that Tim took of me interviewing Owen Emmerson, Hever Castle supervisor, about the two Books of Hours that are in the castle collection and that once belonged to Anne Boleyn, just in case you missed it. Also, if you missed my daily countdown of Anne Boleyn's fall, which I did from 24th April to 20th May, I've included that below too – click here to see the full playlist. Now you just need some time to get your Tudor fix!
By the way, if you do fancy joining me on one of the Tudor tours I co-lead with the lovely Philippa (yes, I'm still calling her lovely even though she photo-bombed my gorgeous photo of Penshurst Place!) then then are still 4 places available on this July's Executed Queens Tour (only 46 sleeps! Of course I'm counting!) and booking is open for next year's Anne Boleyn Experience Tour – find out more at https://www.britishhistorytours.com/history-tours/. I believe that the Anne Boleyn Epxerience 2020 is already 1/4 full!
Here's the first of my Fall of Anne Boleyn series of videos and you can click here to see the full series.