Anne Boleyn Queen of England
Posted By Claire on April 11, 2010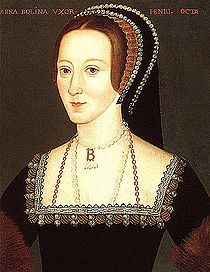 OK, so today isn't just the long awaited day of The Tudors Season 4 premiere in the US, it is also an anniversary. On this day in history, the 11th April 1533 (Good Friday), Henry VIII ordered the Royal Council to recognise his wife Anne Boleyn as Queen of England and to accord her with royal honours, in the place of his former wife, Catherine of Aragon.
As you know, Anne Boleyn married King Henry VIII in a secret ceremony around the 25th January 1533, but this was while he was still officially married to Catherine of Aragon. It was not until April 1533 that the marriage between Henry and Catherine was annulled after Thomas Cranmer was made Archbishop of Canterbury. It was during Holy Week that Catherine of Aragon was dismayed to learn that she was now to be known as the "Dowager Princess of Wales" and that Anne Boleyn was Queen. The Royal Council were told on the 11th that Anne was now Queen and Ives writes of how Anne went to her first mass as Queen on Easter Saturday, the 12th of April.
Anne had played "Perseverance" in the Shrove Tuesday court pageant in 1522 and little did she know how ironic her part was – she needed every ounce of her perseverance to wait 7 years to become Henry VIII's legal wife and Queen of England – phew, that woman had patience, determination and perseverance didn't she?!
Sources