Anne Boleyn Places
Posted By Claire on April 17, 2009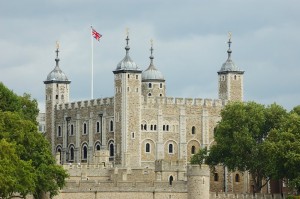 True Anne Boleyn fans will want to visit the places where Anne Boleyn lived, walked and was imprisoned. To walk the same paths as she did, to see the sights she did and to visit the place of her darkest moments – there's nothing quite like it!
Well, if you watched the brilliant Channel 4 (UK) Time Team Special "Henry VIII's Lost Palaces (click here for details on the show and palaces), you will know that Whitehall Palace, the palace that Henry VIII designed with Anne's help and where he married her, no longer exists. Whitehall Palace was destroyed by fire in 1698.
But don't lose heart, there are still many other Tudor places to visit.
Blickling Hall, Norfolk
Although Hever Castle is known as Anne Boleyn's family home, she was actually born at the original family home, a manor house in Blickling, Norfolk. The manor house no longer exists but the Jacobean house, Blickling Hall, now stands on its former site. You may want to visit this National Trust property on 19th May because Anne Boleyn's ghost is said to haunt the hall on the anniversary of her execution. Apparently, a carriage pulled by headless horses with a headless coachman arrives at the hall and a headless Anne Boleyn gets out carrying her severed head! Anne then roams the hall's corridors until daybreak when she disappears.
Blickling Hall is also said to be haunted by Thomas Boleyn, father of Anne, on the date of Anne's execution. This is the man who stood by as his daughter and son, George Boleyn, were executed for high treason, incest and adultery. Thomas Boleyn died in 1539 and legend has it that as penance, for the untimely deaths of two of his children, he must cross 12 bridges before cockcrow on 19th May. With his ghostly coach of headless horses, he starts at Blickling and crosses bridges at Aylsham, Belaugh, Burg, Buxton, Coltishall, Hautbois, Meyton, Oxnead and Wroxham.
More information about visiting Blickling Hall can be found at www.nationaltrust.org.uk/main/w-blicklinghallgardenandpark.htm and the myths surrounding the hall can be read at http://norfolkcoast.co.uk/myths/ml_blickling.htm
Click here for how to get to Blickling Hall.
****Between now and August, Blickling Hall have got a special Anne Boleyn Exhibition, "The New Masque of Anne Boleyn Exhibition", to celebrate 100 years since the 1909 play, The Masque of Anne Boleyn, which recounted the events leading up to Anne's marriage to Henry VIII. See the National Trust website for further details.****
Hever Castle, Kent
This castle in Edenbridge, Kent, was the family home of the Boleyns and Anne's childhood home. The castle actually dates back to the 13th century, but the Boleyns added a Tudor house to it in the 1500s. When Anne Boleyn was executed and her family fell from grace, Henry VIII seized the castle and later gave it to Anne of Cleves, his fourth wife.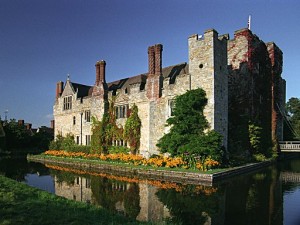 At Hever Castle, you can see the famous portraits of Henry VII, Elizabeth of York, Prince Arthur, Henry VIII, Catherine of Aragon, Anne Boleyn, Jane Seymour, Anne of Cleves, Catherine Howard and Catherine Parr. For us Anne Boleyn fans, the castle is also home to The Anne Boleyn Book of Hours, Anne Boleyn's personal prayer book which bears the inscription "Le Temps Viendra, Je Anne Boleyn" meaning "The Time Will Come, I Anne Boleyn".
This year, to coincide with the 500th anniversary of Henry VIII's accession to the throne, there is also a special exhibition at the castle "The Pampered Prince". You can also see armour, instruments of torture and execution at the castle, as well as enjoy the gardens, maze and lake.
See the Hever Castle website for further details and click here for information on how to get to the castle. You can also download a PDF of the visitors' leaflet – http://www.hevercastle.co.uk/Portals/0/uploads/files/leaflet_download.pdf
Hampton Court Palace, Surrey (near London)
This beautiful palace, once owned by Cardinal Wolsey and extended by Henry VIII, is actually still standing. As I said in a blog post a few weeks ago, this year is the year to visit it as it has got many special events on because of the Henry VIII 500 Year Anniversary.
Here's just a few of those events:-
Henry's Women Exhibition – A special exhibition on Henry VIII's wives which is running until 3rd August 2009. See portraits and personal objects, including a music book of Anne Boleyn's which was said to have been written by one of her lovers.
Rick Wakeman's "The Six Wives of Henry VIII" performed on 1st and 2nd May.
The Henry VIII Talks – Always wanted to hear David Starkey, Philippa Gregory or Eric Ives debate Henry and his wives? Now's your chance. Book to see one of the six public lectures taking place between May and October.
Coronation Weekend – A Tudor river pageant and festivities on the weekend of 20th and 21st June.
There are loads more special events and activities planned so click here to go to the Hampton Court Palace website.
Click here to find out how to get to Hampton Court Palace.
The Tower of London, Tower Hill, London
The Tower of London is where Anne Boleyn was imprisoned after her arrest and where she was the first English queen to be publicly executed. Anne was tried for treason, incest and adultery in the Lieutenant's Lodgings of the Tower of London, but her ghost is said to haunt the Queen's House, which wasn't built until after her death – strange! She was then executed on 19th May 1536 on Tower Green. Her body is still buried within the Tower walls, in the Church of St Peter ad Vincula.
This year, as well as seeing Tower Green, the famous Tower ravens and Crown Jewels, you can visit the special "Henry VIII: Dressed to Kill" exhibition which is the largest collection in the world of armour that once belonged to this famous monarch. Click here for more details.
Click here for directions on how to get to the Tower of London.
Getting to Anne Boleyn Places
I have already given links for directions on how to get to each place when you are actually in the UK, but first you need to get to the UK! London is where you need to head for to see most of the Tudor sights and Hever Castle is not too far from London. Blickling Hall is the odd one, being in Kent, but Anne was only born there so you might not want to bother with the journey.
International travellers flying into London generally choose to fly into London Heathrow or London Gatwick. Both are outside of the city but you can catch the Heathrow Express or Gatwick Express (trains) into the city.
Shop around for flights and hotels using brokers and comparison sites like Priceline.com or Expedia to get the best deal.