Today we commemorated the anniversary of the execution of Anne Boleyn and celebrated her life. I did not want to be gloomy today and I think we did a pretty good job of focusing on her life, rather than her death.
We spent the whole day at the Tower of London and managed to see the Roman Wall, the scaffold site on Tower Hill, the Wharf area and Traitors Gate, the Bloody Tower, the White Tower, Tower Green, the site of Anne's execution, the Beauchamp Tower, the Crown Jewels and much more. However, the highlight for us was our special private tour of the Chapel of St Peter ad Vincula with our guide and the Chief Yeoman Warder.

Anne Boleyn's Resting Place
As we were by ourselves, the Chief Yeoman Warder let us through the barrier to see Anne Boleyn's memorial tile on the floor by the altar table and we were also able to lift up the altar cloth to see the memorial tiles of Catherine Howard and Jane Rochford. It was a wonderful experience to see Anne's tile close up and to put our flowers directly on her tile. I laid a posy of red roses and a few of the others had collected a few wild flowers from around Hever, Anne's home, which was a lovely thing to do. On the card with the flowers, I wrote "In Memory of Queen Anne Boleyn, executed on the 19th May 1536. "Remember me when you do pray" – We remember. From all at The Anne Boleyn Files".
We were all moved by seeing Anne's resting place but I was not upset, I felt peaceful and I think we all felt the same.
Another special treat was being taken to the crypt where the bodies of George Boleyn and the other men are likely to be. There was also a memorial to Sir Thomas More and Bishop John Fisher there. It was brilliant to pay our respects to these people who had their lives cut short so cruelly and unjustly.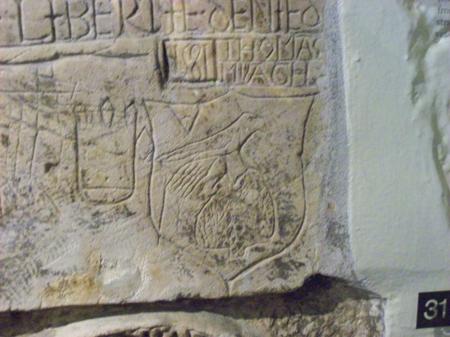 The story of the basket of roses is interesting. Each year a basket of red roses is delivered to the Tower by courier with instructions to lay it by Anne's memorial tile. The Chief Yeoman Warder said that it has been happening for longer than 19 years (the time he has been at the Tower) and John (Henry VIII from yesterday's show) said that it has been happening for at least 40 years. The Tower knows that it happens because of a bequest but that's as far as anyone can get in solving the mystery of who sends them. As for me, I don't want to know who is behind it, I love that this is yet another mystery in Anne Boleyn's story.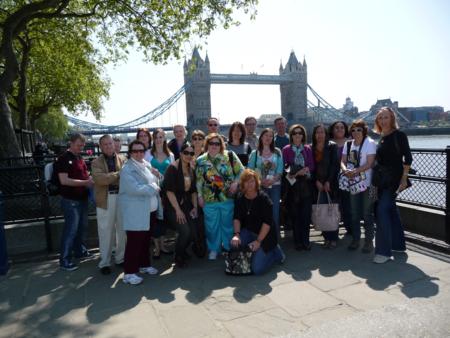 Another Highlight
The other highlight of my day was meeting some of you guys. On Tower Green I met Beth and her boyfriend and also Wendy – it was wonderful to meet you and I'm just sorry that I couldn't chat for longer. I hope you had a wonderful day at the Tower too.
Elizabeth Norton
After a tiring but amazing day at the Tower of London, we enjoyed a wonderful talk from author and historian Elizabeth Norton, after raising a toast to Anne Boleyn on this very special day. I was really excited about meeting Elizabeth because I have thoroughly enjoyed her books. Her talk was really interesting because it was about the dynamics of the Boleyn family – who they were, their background, the relationships between the siblings and the stories of Mary and Anne Boleyn. It was followed by a Q&A session, where we questioned her about her research into Henry's other wives and also who she thought was responsible for Anne's downfall – ultimately the buck stopped with Henry was Elizabeth's view and I have to agree – and then Elizabeth kindly signed books for us.
We also celebrated a birthday with some yummy chocolate cake. A wonderful end to a fantastic day.
Our Day 3 photos can be found at http://www.flickr.com/photos/theanneboleynfiles/sets/72157624097250950/
Photos: First one by Paudie Kennelly, second by Tim Ridgway and third by John Renshaw.