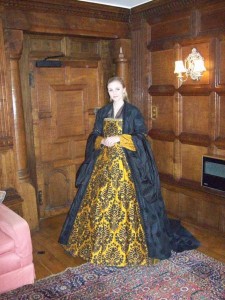 Well, we're here at Hever Castle and it is amazing! The day started out stressful and upsetting in that a few people couldn't get to the UK for the tour because of the stupid volcanic ash cloud, which I have nicknamed Henry, but most of us are here now and have had a wonderful evening.
London Pick-up
I have to say a big thank you to everyone for being on time (early in fact) for the meeting at Victoria Station in Central London, the only drawback was the coach being late but it gave us time to chat and wind down from travelling. The journey back through the Kent countryside really showed us why Kent is called "The Garden of England", it was so green and pretty and I think we all fancy living here now!
Hever Castle
We haven't seen the castle properly yet but the Astor Wing is amazing in itself, many of us just couldn't help staring at all of the wooden carvings and pannelling which surrounded us in the Tudor Suite dining room at dinner. We all enjoyed our three course dinner with wine and some Henry VIII and wives chocolates to finish. I particularly enjoyed finally meeting the people who I've been corresponding with for months – they are all wonderful people.
Surprise Guest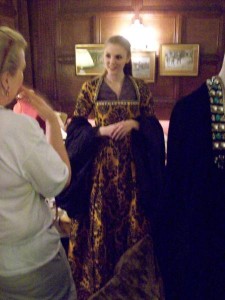 Tonight was to be an informal evening as we were all pretty tired. We enjoyed looking through our goody bags of books and then we had chatted to actress Annika Hammerton who was a lady-in-waiting to Jane Seymour in Season 3 of The Tudors. Annika joined us for dinner and then shared her on-set photos with us, as well as lots of stories about "Jonny" and Henry Cavill (swoon!), and two beautiful dresses that she owns which were used in the movie "The Other Boleyn Girl". Annika charmed us all and we had a great time listening to her and admiring her costumes and photos. Thanks Annie!
End of a Tiring Day
We've all had a very tiring day, particularly those who flew in amidst the chaos of Heathrow Airport today, but it has been a great start to The Anne Boleyn Experience 2010. We're looking forward to our full day at Hever tomorrow – to walk in Anne's footsteps will be a wonderful experience.
Tune in tomorrow to find out what we get up to then.
You can see more photos on our special Anne Boleyn Files Flickr Page – http://www.flickr.com/photos/50348361@N08/sets/72157624082529402/