Anne Boleyn Experience 2011 Day 1
Posted By Claire on July 18, 2011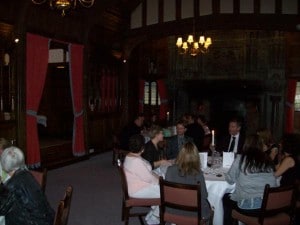 It's so wonderful to be back at Hever Castle and it's only Day 1 of the tour and I'm already in seventh heaven being here and being in the company of a wonderful group of people. There are 22 of us in all and we have attendees from the US, Canada, the UK, Belgium and Australia.
Tim and I met The Anne Boleyn Experience attendees at Victoria Station at 3pm this afternoon and after a coach ride through London, with our wonderful driver pointing out lots of famous London landmarks, we arrived at the magical Hever Castle, the childhood home of Anne Boleyn. We had time to freshen up and enjoy our gorgeous rooms before our very yummy three course dinner with wine and then we spent time socialising in the Music Room where we analysed Henry VIII, discussed various Tudor characters, novels and authors, and decided on who murdered the Princes in the Tower – the startling conclusion was Margaret Beaufort, the original Iron Lady! You heard it here first! It was wonderful to talk Tudor!
The highlight of my evening was being named everyone's "fairy godmother" by organising the tour, very heart-warming and it made me feel so special. Thank you to all the attendees who have already showed that they are lovely people and are such fun to be with. This is going to be an amazing few days!