Anne Boleyn Coronation Book
Posted By Claire on October 11, 2012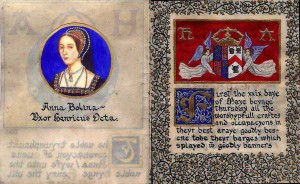 I just had to share with you Roland Hui's beautiful illuminated Anne Boleyn Coronation Book.
The text is transcribed from the pamphlet printed by the London publisher Wynkyn de Worde in the summer of 1533 and Roland has used calfskin vellum, with illustrations done in ink with raised and silver gold lea. The book measures about 4″ x 5″ and took him around two years to complete. What a work of art!
You can see images of it at Photobucket
Enjoy!