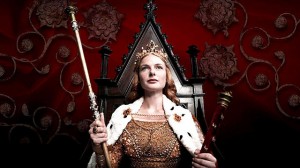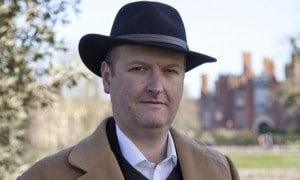 Just a quick reminder for those in the UK about this weekend's medieval/Tudor themed viewing.
Tonight you can see the final episode of Ian Mortimer's Time Traveller's Guide to Elizabethan England and then on Sunday it's The White Queen!
The Time Traveller's Guide to Elizabethan England: A Brave New World
The BBC2 website says of tonight's final episode:
"In the final episode of the series, Dr Ian Mortimer travels through the world of a new and upwardly mobile section of Elizabethan society – the middle class. In a groundbreaking new way of exploring history, Ian takes viewers on a present-tense journey through this golden age of English history.
Along the way he visits Stratford-Upon-Avon and reveals how urbanisation improves ordinary people's lives. He drops in at Shakespeare's school to uncover how education transforms society and explores how this age of discovery helps spur a scientific revolution that creates a new world.
Ian also transports viewers to the electrifying world of Elizabethan theatre at Shakespeare's Globe and tells the dramatic story of how English imperial ambitions leads to the Armada and the threat of Spanish invasion."
I grew up near Stratford-upon-Avon, so I'm going to enjoy this one!
If someone puts it on YouTube then I will add the link to The Anne Boleyn Files Facebook page for those of you in other countries to view.
The White Queen
The BBC adaptation of Philippa Gregory's "The White Queen" starts on Sunday night at 9pm on BBC1. The website says of episode 1 "After meeting Elizabeth Woodville, King Edward IV must choose between love and loyalty." See http://www.bbc.co.uk/programmes/p018sxqp for more information.
Those of you in the USA who have the Starz channel will be able to watch The White Queen in August, see http://www.starz.com/originals/thewhitequeen.