Posted By Claire on May 9, 2017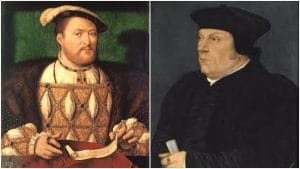 On this day in history, Tuesday 9th May 1536, King Henry VIII wrote to Thomas Cromwell, his principal secretary and right-hand man, "commanding him to repair to the King to treat of matters relating to the surety of his person, his honor, and the tranquillity of the realm". A council meeting was also summoned.
Meanwhile, the Justices of the King's Bench were sending orders to the sheriffs of London to assemble a grand jury at Westminster on 10th May to rule on offences alleged to have taken place in the county of Middlesex.