Posted By Claire on July 9, 2011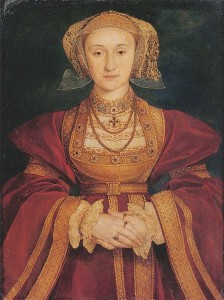 On this day in history, 9th July 1540, King Henry VIII's marriage to his fourth wife, Anne of Cleves, was declared null "by reason of a precontract between lady Anne and the marquis of Lorraine, that it was unwillingly entered into and never consummated, and that the King is at liberty to marry another woman, and likewise the lady Anne free to marry."1
It was convocation who ruled on the marriage, after hearing a "lucid speech" from Stephen Gardiner, Bishop of Winchester, and hearing from the Archbishops of Canterbury and York, the bishops of London, Durham, Winchester and Worcester, and doctors of theology and law, who had weighed up all the evidence of the case.
You can read further details on Henry VIII's marriage to Anne of Cleves, and the subsequent annulment, in "Henry VIII Divorces Anne of Cleves".
Also on this day in history:-
9th July 1553 – Nicholas Ridley, Bishop of London, preaches at St Paul's Cross denouncing Henry VIII's daughters, Mary and Elizabeth, as bastards. The congregation were "sore annoyed with his words"2.
9th July 1553 – The Duke of Northumberland officially informs Lady Jane Grey of Edward VI's death in front of the Council and nobles, going on to explain the terms of Edward's will which named Lady Jane Grey as the heir to the throne. Lady Jane Grey accepts that she is Queen.
Notes and Sources
LP xv.860 – see LP xv. 860 and 861 for the full records of the meetings of convocation in July 1540.
The Sisters Who Would Be Queen, Leanda de Lisle, p110-111