9 July 1540 – Anne of Cleves is no longer queen
Posted By Claire on July 9, 2017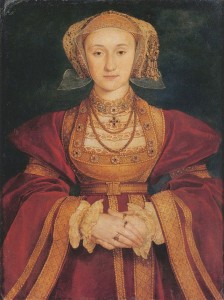 On this day in history, 9th July 1540, convocation declared that Anne of Cleves' marriage to King Henry VIII was null and void and that both parties were free to marry again.
While the twenty-four-year-old Anne never did remarry, her forty-nine-year-old former husband wasted no time taking another wife, wife number five. On 28th July 1540, just over six months after his marriage to Anne of Cleves and just nineteen days after the annulment had been declared, Henry VIII married Anne's former maid of honour, Catherine Howard.
Click here to read more about the end of Henry's marriage to Anne of Cleves.