8 December – The Feast of the Immaculate Conception
Posted By Claire on December 8, 2014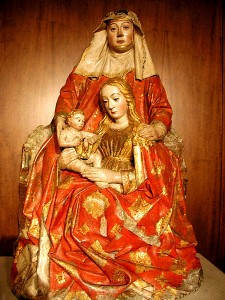 Here in Spain, and in many other Catholic countries, today is a public holiday because it is the feast day of the Immaculate Conception, a feast which dates back to the 7th century when Eastern churches began celebrating the conception of the Blessed Virgin Mary. That is the origin of the feast, but the feast day as we know it today in the West dates back to around the 11th century.
When they hear the words "immaculate conception", people tend to think that it is a commemoration and celebration of the immaculate conception of Jesus Christ in the womb of the Virgin Mary, but it is actually referring to Mary's conception in the womb of her mother, St Anne. Mary's own immaculate conception meant that she had been conceived free from the taint of original sin.
One of the tableaux in Anne Boleyn's coronation procession had St Anne as its theme and you can find out more about this, and how Anne linked herself with Mary's mother, in my article The Feast of the Immaculate Conception, St Anne and Anne Boleyn.
Picture: The Virgin and Child with St Anne in the Cathedral Museum of the Church of Santiago de Compostela.