7 September 1533 – Birth of Elizabeth I, daughter of Henry VIII and Anne Boleyn
Posted By Claire on September 7, 2011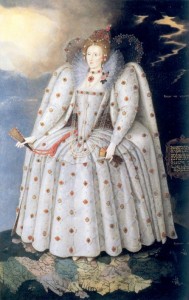 On this day in history, 7th September 1533, at 3 o'clock in the afternoon and less than 2 weeks after having gone into confinement at Greenwich Palace, Queen Anne Boleyn gave birth to a little girl who, although a disappointment at her birth, would become one of the greatest monarchs in English history: Elizabeth I the Virgin Queen, Gloriana, Good Queen Bess.
Astrologers had predicted that Anne Boleyn's baby would be a boy and the couple were so confident that God would bless their marriage in this way that Anne had had a letter written in advance of the birth, giving thanks to God for sending her "good speed, in the deliverance and bringing forth of a prince". An 's' was added to this letter and a celebratory joust was cancelled, for the "prince" was actually a lowly girl and Henry had one of those already!
David Starkey writes of how the royal couple "put a brave face on the matter" but:-
"Nobody was deceived. It was not for this, for a daughter, that Henry VIII had risked his kingdom by divorcing his first wife and imperilled his immortal soul by breaking with Rome. It was for a son."
Nobody knows exactly how Anne and Henry felt on that day. I suspect that after the initial disappointment they were both relieved that Anne and the baby had survived and were hopeful for the future, after all, Anne had experienced no problems getting pregnant and had carried this baby full-term. Although this is a happy day, a day to celebrate the birth of an incredible woman and monarch, it is tinged with sadness for me. I am sad that there was disappointment at her birth, that Henry VIII had no inkling of who this little red-haired girl would become (and how could he?), that she lost her mother so young and that her birth could not keep her mother safe. If only a boy had followed…
But, saying that, should we be sad? That little girl, that amazing Queen, Gloriana, who ruled England for over 44 years was not just the daughter of Henry VIII, she was the daughter of Anne Boleyn. What a legacy! Elizabeth may have referred to herself as the "lion's cub", but in many, many ways she was also her mother's daughter. The long face, the high cheekbones, the wit, the charm, the magnetism, the intelligence… they were from her mother, don't you think?
You can read more about Elizabeth I's birth in my article "The Birth of Elizabeth I" and I have written many articles about her life and reign over at "The Elizabeth Files".
Last year, I left you with a video by xHistoryGirl23x, a moving tribute to both women, and I really can't find a better one, so here you go…
Notes and Sources