7 March 1530 – The Pope Threatens Henry VIII with Excommunication
Posted By Claire on March 7, 2014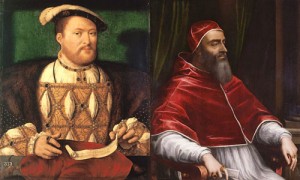 On 7th March 1530 Pope Clement VII issued a bull threatening Henry VIII with excommunication if he proceeded to marry again.
The Pope had been informed by Queen Catherine of Aragon that her husband had "boasted" that he would take a second wife "notwithstanding the inhibition and mandate against him", so the Pope was acting against this rebellious king.
You can read more about this in my article from last year – click here.