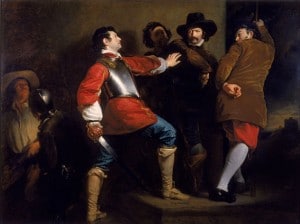 On this day in history…
1514 – Mary Tudor, sister of Henry VIII, was crowned Queen of France. She had married King Louis XII at Abbeville on the 9th October 1514. The marriage was rather short-lived as Louis died on the 1st January 1515 and Mary went on to marry Charles Brandon, Duke of Suffolk.
You can read more about Mary in the following articles:-
1605 – The Gunpowder Plot – On the night of 4th/5th November, Guy Fawkes was caught with 36 barrels of gunpowder in the cellars beneath Westminster. The idea was to blow up the House of Lords at the opening of Parliament on the 5th November and assassinate King James I.
You can read more about the plot at "The Gunpowder Plot".