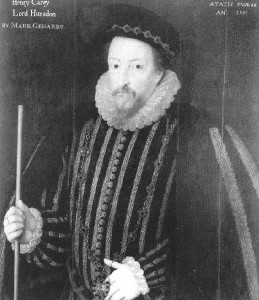 On this day in 1526, Henry Carey, 1st Baron Hunsdon, courtier and administrator, was born. He was the only son of William Carey, courtier and favourite of Henry VIII, and his wife, Mary (née Boleyn). There is controversy over his paternity due to Mary Boleyn having a sexual relationship with Henry VIII at some point, but the majority of historians believe that Henry was fathered by Carey.
In 1528, the two year old Henry Carey became Anne Boleyn's ward after the death of his father, William Carey, from sweating sickness. It was his aunt, Anne Boleyn, who ensured that the boy received a top notch education under the famous French poet, Nicholas Bourbon. This education helped Henry become an important and influential courtier.
In 1547, he became a Member of Parliament, and when his cousin came to the throne in November 1558, he was knighted. He was one of Elizabeth I's favourites, and his offices and titles included: 1st Baron Hunsdon, Master of the Queen's Hawks, Knight of the Garter, Lieutenant General, Warden of the East Marches, Keeper of Somerset House, Privy Counsellor, Captain General, Lord Chamberlain of the Household, Lord Chamberlain Lieutenant, Principal Captain and Governor of the Army, Chief Justice in Eyre, High Steward of Ipswich and Doncaster, Chief Justice of the Royal Forces and High Steward of Oxford.
Henry Carey died on 23rd July 1596 at Somerset House, and it is said that Elizabeth I offered him the title of Earl of Wiltshire on his deathbed, but he refused, saying "Madam, as you did not count me worthy of this honour in life, then I shall account myself not worthy of it in death." Like his sister, Catherine, he was laid to rest in Westminster Abbey.
Extract taken from "On This Day in History" by Claire Ridgway
Today is also Shrove Tuesday and you can read all about Shrove Tuesday and Lent in one of my previous articles – click here.