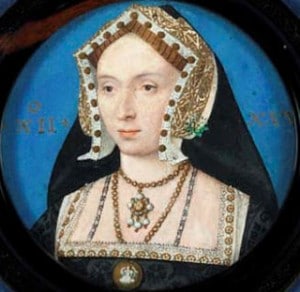 On Saturday 4 February 1520, Mary Boleyn married William Carey in Greenwich Palace's Chapel Royal. Henry VIII attended the wedding, making an offering of 6s. 8d., which is recorded in the King's Book of Payments 1520.
Mary Boleyn was the daughter of Thomas Boleyn, Henry VIII's ambassador at the French court and a man on the rise, and Elizabeth Howard, daughter of Thomas Howard, 2nd Duke of Norfolk. William Carey was descended from Edward III, and his maternal grandmother was cousin to Henry VIII's paternal grandmother, Margaret Beaufort. He was also a member of the King's Privy Chamber and an Esquire of the Body, so was definitely a suitable husband for Mary. The couple would have lodged at court after their wedding, allowing Carey to continue his duties serving the King. They both attended the Field of Cloth of Gold in June 1520, serving the King and Queen there.
You can read more about Mary Boleyn in my article Mary Boleyn – One Big Boleyn Myth and the series of Mary Boleyn: The Unknown Sister articles by Sarah Bryson. Sarah has just finished work on a book on Mary, Mary Boleyn: In a Nutshell, which will be released in the next couple of months.
Notes and Sources
The King's Book of Payments 1520, LP iii p1539 (The King's Book of Payments, 1520, in Letters and Papers, Foreign and Domestic, Henry VIII, Volume 3, 1519-1523, ed. J S Brewer (London, 1867), p 1539) – This can be read at http://www.british-history.ac.uk/letters-papers-hen8/vol3/pp1539-1543.
Ridgway, Claire (2012) On This Day in Tudor History, MadeGlobal Publishing