4 August 1557 – The burial of Anne of Cleves
Posted By Claire on August 4, 2017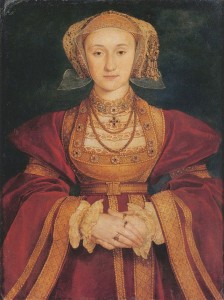 On this day in history, 4th August 1557, Anne of Cleves, fourth wife of King Henry VIII, was laid to rest at Westminster Abbey. She had died on 16th July 1557 at her home, Chelsea Manor.
The requiem mass was led by the Lord Abbot of Westminster and the chief mourner at the funeral was Elizabeth, Marchioness of Winchester and wife of William Paulet, Marquess of Winchester and Lord High Treasurer. Anne was buried on the south side of the High Altar and her tomb can still be seen today.
In her Oxford Dictionary of National Biography article on Anne of Cleves, Retha Warnicke writes of how Thomas Becon, Archbishop Cranmer's chaplain, dedicated his work The Pomander of Prayer to Anne and I thought I'd share his dedication with you today, in memory of Anne of Cleves:
"To the most honourable and virtuous Lady Anne of Cleve, Her Grace, sister to the high and mighty Prince William, Duke of Cleve, &c., Thomas Becon wisheth the favour of God, long life, and continual health.
Among many other godly and noble virtues, which God by his holy Spirit hath grafFed in your grace's breast, most honourable lady, the fervent affection and continual desire of praying unto the Lord our God hath neither the last nor the least place in you. And as God hath wrought in you by the Holy Ghost this godly mind to call upon his holy name with diligent prayer, so likewise doth your grace stir up and confirm that spiritual motion with the exercise of daily prayer, lest that godly affection should be quenched, which the Holy Ghost bath kindled in your heart.
For your grace doth right well consider, that God delighteth in nothing more than in the invocation of his blessed name, and in the sacrifice of thanksgiving for his benefits. Where the name of God is diligently called upon, and most humble and hearty thanks given unto him for his fatherly and friendly gifts, there is his blessing, grace, arid favour plenteous; there is the Holy Ghost present, there is a merry conscience; there all things prosper, there wanteth no good thing. Continue therefore, most honourable lady, as ye have godly begun, both you and all your faithful family, to call for the glorious name of the Lord our God with fervent prayer, and forget not to be thankful unto him for his benefits, wherewith above many other he hath richly endued your grace. So shall he be your loving Lord and gracious God, your favourable Father and strong shield. So shall he make your grace to prosper in all your doings, and bless you both with long life and much honour.
And that your grace may have at hand convenient prayers to pray unto the Lord our God, I thought it good, considering your grace's manifold virtues, to give unto you this my Pomander of Prayer, wherein are briefly contained such godly prayers as are most meet in this our age to be used of all degrees and estates, most humbly beseeching your grace to take in good part this my rude and bold enterprise, according to your accustomed gentleness.
God, whose glory you heartily love, whose word you joyfully embrace, whose name you earnestly call upon, mought vouchsafe to preserve your grace in continual health and increase of honour! Amen.
Your grace's most humble and faithful orator, Thomas Becon."
Becon obviously held Anne of Cleves in high esteem.
You can click here to read a primary source account of Anne's burial.
Notes and Sources
Warnicke, Retha M.. "Anne [Anne of Cleves] (1515–1557)." Retha M. Warnicke In Oxford Dictionary of National Biography, online ed., edited by David Cannadine. Oxford: OUP, 2004.
ed. Nichols, J.G. (1848) The Diary of Henry Machyn: Citizen and Merchant-Taylor of London (1550-1563), p141-162.
Becon, Thomas, chaplain to Archbishop Cranmer, Prebendary of Canterbury, Prayers and other pieces of Thomas Becon, edited for the Parker Society by the Rev. John Ayre, p. 74.