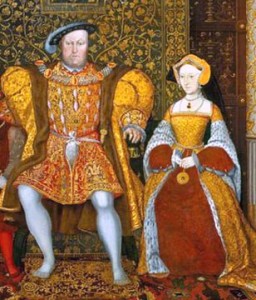 On Tuesday 30th May 1536, just eleven days after Anne Boleyn was beheaded, King Henry VIII married Anne's former lady-in-waiting, Jane Seymour, in the Queen's Closet at Whitehall.
The couple had become betrothed on 20th May 1536 and following that Jane had been kept in seclusion at Chelsea, due to the gossip and ill feeling that the speed of their relationship had caused. However, Henry was not going to let gossip get in the way of his plans; he needed a son and heir as soon as possible. The wedding was a private affair but on 2nd June Jane appeared in public at Henry's side as queen:
"On Friday last [2nd June] the Queen sat abroad as Queen, and was served by her own servants, who were sworn that same day. The King came in his great boat to Greenwich that day with his privy chamber, and the Queen and the ladies in the great barge."
She was officially proclaimed queen on Whitsun, 4th June 1536, at Greenwich Palace.