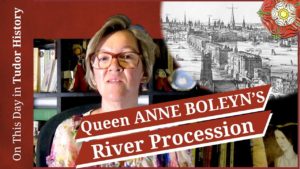 Every year, I find it very odd to go from talking and writing about the events leading up to Queen Anne Boleyn's execution in May 1536 to suddenly writing about the celebrations leading up to her coronation on 1st June 1533.
I find it hard to get my head around how Anne Boleyn could go from such a high, a real time of triumph, to such a low and to losing her life in just three years. It's so very sad.
Queen Anne Boleyn's coronation celebrations were spread out over four days and began with what must have been a spectacular sight for the citizens of London, a huge procession or pageant of barges and other vessels on the River Thames.
In today's "on this day in Tudor history" video, Claire Ridgway, I describe this amazing river procession, using details from contemporary sources. Fire-breathing dragons, wild men, music, sumptuous decorations… it must have been a wonderful sight. It's one I'd definitely like to go back in time for.
This video was based on an article I wrote her on the Anne Boleyn Files, so if you prefer reading articles to viewing videos then you can click here to read that now.