28 May 1533 – Archbishop Cranmer Proclaims Validity of Henry VIII's Marriage to Anne Boleyn
Posted By Claire on May 28, 2012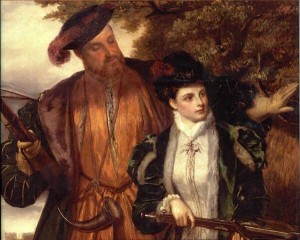 Following on from the decision of the special court held at Dunstable, and Cramner's declaration that Henry VIII's marriage to Catherine of Aragon was invalid and had been annulled, Cranmer proclaimed the validity of Henry's marriage to Anne Boleyn on this day in 1533.
Henry VIII and Anne Boleyn had already been married four months, way before the annulment, but Henry believed that his marriage to Catherine had never been valid because she was his brother's widow. Convocation and the Dunstable court agreed with him, ruling that the Pope had no authority to issue a dispensation for a marriage which was contrary to God's law.
This proclamation came just the day before Anne Boleyn's coronation pageantry began.