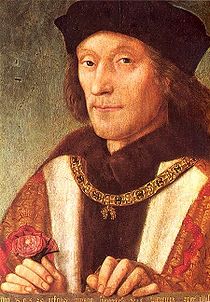 On this day in history, 28th January 1457, King Henry VII (also known as Henry Tudor) was born at Pembroke Castle on the south-west coast of  Wales.
His father was Edmund Tudor, 1st Earl of Richmond, and his mother was Lady Margaret Beaufort. Henry's paternal grandparents were Owen Tudor, a former page to Henry V, and his wife, Catherine of Valois, the widow of Henry V and mother of Henry VI. His maternal grandfather was John Beaufort, 1st Duke of Somerset, and his maternal great-grandfather (John Beaufort, 1st Earl of Somerset) was a son of John of Gaunt, 1st Duke of Lancaster, and his mistress (and later wife), Katherine Swynford. It was from this Beaufort side of the family that Henry VII derived his claim to the throne.
Lady Margaret Beaufort was only thirteen years old when Henry was born and she was already a widow, his father having died from the plague three months earlier while imprisoned by Yorkists. Margaret had been taken in by her brother-in-law, Jasper Tudor, Earl of Pembroke, the man who helped bring Henry up, who took him into exile in Brittany and who helped him win the crown of England.
Henry's birth may well have been difficult for the young Margaret. She never had any more children and was said to be concerned about the marriage negotiations for her young granddaughter, Margaret Tudor, to marry James IV of Scotland because she did not want the marriage to be consummated when Margaret was so young (the couple married when Margaret Tudor was 13).
Henry VII was the first Tudor monarch and he claimed the throne after defeating Richard III at the Battle of Bosworth Field on the 22nd August 1485. On the 18th January 1486, he united the Houses of Lancaster and York by marrying Elizabeth of York, daughter of Edward IV, a move which strengthened his monarchy and his future offsprings' claims to the throne. The marriage between Henry and Elizabeth was happy and successful. The couple had four children who survived childhood: Arthur, Henry (Henry VIII), Margaret and Mary, but Elizabeth died on her birthday in 1503 at the age of 37. She died from a post-partum infection and her husband was said to have been devastated.
Henry VII ruled for over 23 years and died on 21st April 1509, aged fifty-two. His achievements include:
Securing the throne and passing his crown unchallenged on to his son and heir, Henry VIII.
Uniting the kingdom and bringing peace to England after decades of unrest.
His reform of administration – e.g. The setting up of the Court of the Star Chamber.
Restoring the Crown's fortunes.
You can find out more about Henry VII in my review and rundown of Thomas Penn's documentary Henry VII: Winter King. Thomas Penn's book Winter King is also a must-read.