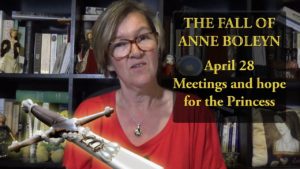 Something was definitely going on at the court of Henry VIII by 28th April 1536!
Long council meetings, experts consulted, the Lady Mary being given hope for the future… Anne Boleyn was definitely in danger.
What do the primary sources tell us about what was going on?
In today's video, I share what the sources say about the goings-on at court.
I'm doing these "Fall of Anne Boleyn" videos daily until 19th May and I started on 24th April. You can catch up with them on the Anne Boleyn Files and Tudor Society Youtube Channel.
You can find out more about my book The Fall of Anne Boleyn: A Countdown at http://getbook.at/fallanneboleyn.
If you prefer reading articles to watching videos, you can click here to read my article from a few years ago.