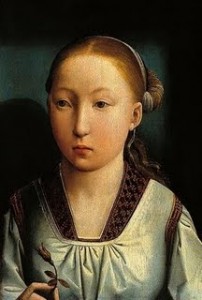 On this day in history, 27th September 1501, at 5 o'clock in the afternoon, the 15 year old Catherine of Aragon made a second attempt at sailing from Spain to England to marry Prince Arthur, heir to the English throne. Her first attempt on the 17th August had been a failure: strong storms in the Bay of Biscay had forced Catherine's fleet to land at Laredo, near Bilbao.
Catherine had left her home, the Alhambra Palace in Granada, on the 21st May 1501 to travel over 500 miles to the northern coast of Spain to set sail for England. I thought of Catherine in July this year when I did a similar journey, travelling from near Granada, through northern Andalucia and the regions of Castilla la Mancha, Madrid, Castilla y Leon, and finally to Cantabria and the port of Santander, where I too set off for England. It took me and my family about 10 hours by car and 24 hours on the ferry, a tiring journey, but as I travelled I thought of Catherine doing it on horseback in the heat of the summer and then coping with the Bay of Biscay on a 16th century ship without stabilising equipment! Awful! I hope she had some sick bags!
Catherine arrived at Plymouth, on the south-western coast of England, on the 2nd October. She must have been exhausted and I wonder if she was swaying for days like I was in the summer! I bet she was a sickly green colour!
The journey I did in the summer, driving in the footsteps of Catherine of Aragon and passing places like Medina del Campo where the marriage treaty was signed in 1489, made me feel very close to Catherine of Aragon. The more I read about her, the more I admire the woman who Henry VIII chose to marry and who he was married to for over 20 years. Anne Boleyn may be the focus of this website but Catherine deserves to be admired for her strength, courage, intelligence and faith. An amazing woman.
You can read more about her journey in "Catherine of Aragon Sets Sail for England" and more about her as a woman and queen in the following articles:-